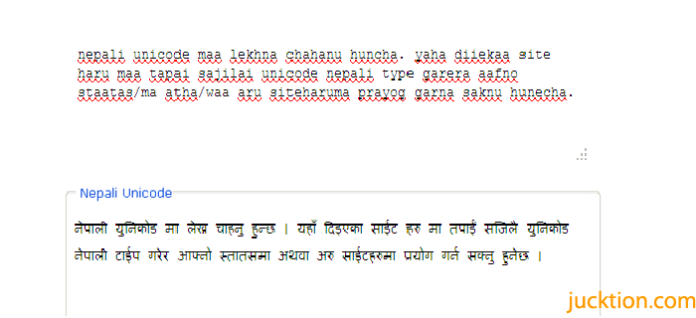 Unicode is generally a universal font that contains a collection of numerous different characters from languages from around the World. Unicode is now known to contain 110,000 characters covering 100 scripts. Each character in Unicode is represented by a number in unicode  which is then identified by computers as a assigned character. Unicode also contains Nepali characters on its collection that allow you to type in Nepali font (Devanagiri Lipi) and use them to type your status on facebook, twitter or any other sites you come across.
There are sites that allow you to type in romanized Nepali (like "mero naam")  and then it is converted to unicode so you can copy them to use them on facebook, twitter or other uses. We are going to show you some of the best sites that allow you to type in Unicode Nepali for your use.
The first one is probably the best Nepali Unicode converter we've seen because its written in JavaScript and once its loaded it doesn't need an active internet connection. Also it has got simple easy to use interface, some unique conversion method and instruction listed below that helps you through hard Nepali letters and word combos. Its by a Nepali developer named so it knows what we have hard times with some letters and works. We really would thank the creators for creating this simple script for us.
Also as its in JavaScript, many have  copied the script to their site as their own we still like the original one a lot. Click the image to continue to the converter. Use the suggest word feature if you think there is something missing.
Google Transliterate is a tool by Google that enables you to type in Nepali and numerous other languages online.  You just have to go the the Google transliterate site, choose Nepali as your language at on the toolbar extreme left option. Then you type in romanized Nepali, and as soon as you press the Space button, its converted to Nepali Unicode. It also has an free transliteration tool you can download to take with you wherever you want to convert to Unicode. However you need an active internet connection for this to work. If you've got a slow internet, you might not see the words converted to Nepali as you type.
Another site is XNepali.net which uses the Google Transliteration API to convert between romanized Nepali to Unicode Nepali. It also offers a Rich Text Editing of Nepali Unicode which can be used for easy formatting.
These are the sites that we know of and are best for converting romanized Nepali to Unicode Nepali format with ease. If you got any new and easy online conveters and want to let us know what you think in the comments.