Kathmandu is the largest and capital city of Nepal, with a population of around 1 million. It is called "City of Temples" with temples and monasteries scattered around the area. A bowl-shaped Kathmandu Valley stands at an elevation of approximately 1,400 meters (4,600 feet) above sea level.
The valley is called "Nepal Mandala" and has been the residence of the Newari people, who are an urban civilization in the foothills of the Himalayas. The region has a rich history with Kathmandu as the center of Nepal's history, art, culture, and economy. The Kathmandu Valley can be further divided into three cities; Kathmandu, Bhaktapur, and Patan.
Composed of a multiethnic population within a Hindu and Buddhist majority. Kathmandu has traditionally been a home of the Newar people. Newari people have a rich history of preserving their old culture and traditions for generations, which continue to this day. Religious and cultural festivities form a major part of the lives of people living in Kathmandu.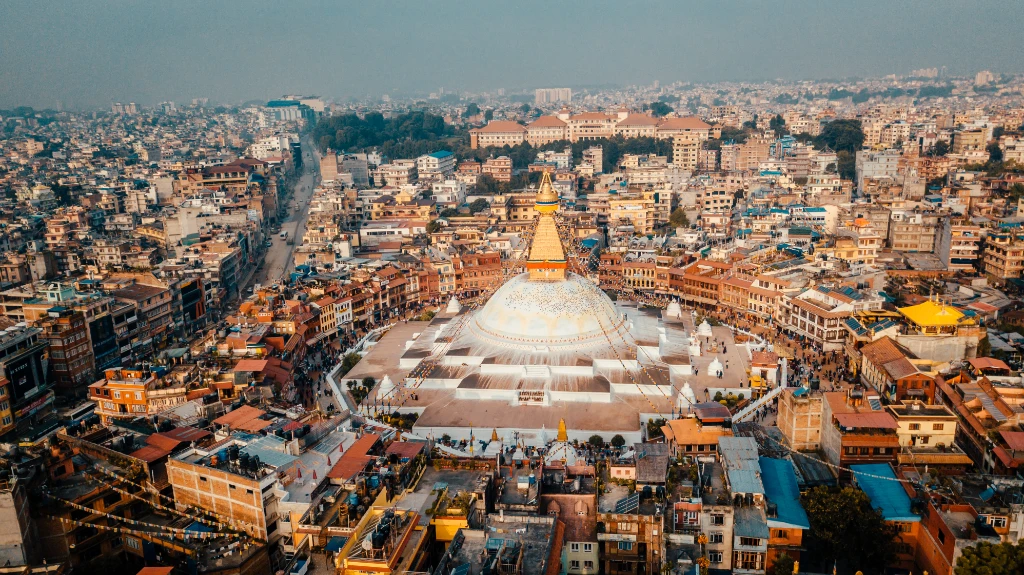 Tourism is a crucial part of the country's economy. In 2013, TripAdvisor ranked Kathmandu as the third among the top ten upcoming travel destinations in the world and topmost in Asia.
Kathmandu is the gateway to the Himalayas as the first and major international airport in the nation. Kathmandu valley is home to seven world heritage sites. They are the Hanuman Dhoka, Patan and Bhaktapur Durbar Squares, Swayambhu and Boudha Stupas, and the temples of Pashupati and Changu Narayan.
So if you are in Kathmandu valley and want to make your days more thrilling, here is the list of things you should or could do while visiting Kathmandu valley.
Explore Historic Durbar Squares
There are two major historic Durbar Squares around in the Kathmandu Valley; Kathmandu Durbar Square, Bhaktapur Durbar Square, and Patan Durbar Square. The royal family and their counsel of the kingdom stayed in these plazas as their residence with courtyards, baths and temples of gods and goddesses. Buildings with intricate carvings, windows and temples are the main attraction of these places.
Kathmandu Durbar Square, the royal plaza of the former Kathmandu Kingdom, is one of three Durbar (royal palace) Squares in the Kathmandu Valley. The rulers of the kingdom lived and made their decisions from these places.. UNESCO enlisted Kathmandu Durbar Square as a Natural Heritage. The major attractions of these site are:
Taleju Temple
Jaganath Temple
Enormous Bell
Patan Durbar Square
Patan or Lalitpur Durbar Square is a city center southwest of Kathmandu. It is a UNESCO World Heritage Site that encompasses a complex of palaces, temples, and courtyards that dates back to the medieval period. Its popular for its rich cultural heritage, exquisite architecture, and intricate wood carvings. The city is often called "The City of Fine Arts" because of the abundance of artistic masterpieces that scatter throughout the city.
Visitors can stroll through the narrow alleys and admire the Newari-style buildings or take in the stunning views from the top of the Patan Museum. Patan Durbar Square is also a hub for traditional crafts, such as metalwork, pottery, and weaving. Overall, the city is a must-visit destination for anyone interested in Nepal's rich history and culture. The major attractions in Patan are:
Krishna Temple
Degutalle Temple
Bhaktapur Durbar Square
Bhaktapur Durbar Square has many temples and attractions that are historically significant. The ancient city Bhaktapur lies in the Eastern part of Kathmandu valley, also known as Bhadgaon or Khwopa.
Bhaktapur is a bustling city with traditional Nepali culture, custom and unique arts of wooden and potteries. The historical site around signifies the medieval age culture and tradition of Nepal. Indigenous Newari people mostly occupied this ancient city. The major attractions of these sites are:
Pachpanna jhyale Durbar (55 Window Palace)
Vatsala Temple
Nyatapola Temple
Bhairava Nath Temple
Lun Dhwakha (Golden Gate)
Lion's Gate
Mini Pashupati Temple
Out on the outskirts of Bhaktapur, you can also visit Changunarayan temple and Nagarkot hilltop for a view of the sunrise and the Himalayas.
Night life at Thamel
Thamel, which lies in Kathmandu Valley, is one of the hot-spot places you should visit during your arrival in the valley. Its been a center of the tourist industry in Kathmandu over the decades.
From shops to the grocery store, trekking stores to cloth store, travel agency to hotels & restaurant all lies around Thamel. Likewise, Thamel probably is the best place to enjoy the nightlife when you are in the Kathmandu valley. Major attractions of Thamel are:
Live Music & Performance
Big Bazaar & Shopping
Traditional & Continental Cuisine
Better Accommodation Services
Bars & Clubs
Natural Therapy
Exploring Heritage around Thamel
Try Local Food(Nepali Cuisine)
Are you in Nepal and you got stuck on what to eat & what not to eat during the visit? Be sure you will be in love after you try a different Nepali Cuisine. Tibetan & Indian influences Nepalese cuisine dishes but has its own distinctive dishes as well.
The most common Nepalese food is Daal Bhaat Tarkari and food like Momos and Chowmein are fast food. Newari cuisine is most common in the Kathmandu valley and you can find many delicacies, from hearty meals to sweets and pastries around the town. Here are some of the list you should try during your visit:
Daal Bhat Tarkari
Didho with Local Kukhura (chicken) curry
Momos
Newari Cuisine
Thakali Cuisine
Sel Roti
Juju Dhau
Hanging around religious places
An one of the oldest and sacred cities in South Asia, Kathmandu is full of historical, religious, cultural and monumental sites. If you are exploring spiritual sites around Kathmandu valley, be sure to visit around the old city and its temples. There are all kinds of temples and religious places for people from different castes and religions who live in each of the cities. It holds a lot of religious secrets, meanings, places, and historical monuments that are open to all the visitors. Religious sites you should visit are:
Pashupatinath Temple
Swayambhu Stupa
Boudha Stupa
Budhanilkantha Temple
Dakshinkali Temple
Trekking Around Kathmandu Valley
If you don't have enough time or energy to trek the great Himalayas yet, and want a short trek to get the feel of the rugged geography of Nepal, fret not. The Kathmandu valley has many trekking trails and destinations that can be a thrilling experience of a lifetime. You can experience one or more days' trek around the valley.
Around Kathmandu, you can experience sub-alpine forests, birds chirping, picturesque hamlets, and rivers. These are some of the most satisfying things to enjoy during a short trip. Here are some of the best places you shouldn't miss during your visit to Kathmandu. One thing, don't forget to thank me later after your completion of the short trek.
Godawari-Phulchoki Hike
Chisapani Hike
Nagarkot Hike
Hike around Shiva puri
Art Spaces, Galleries & Museum
Nepalese Paintings are very mystical with the religious connotations of Hindu and Buddhist culture. Kathmandu is the hotbed of Nepalese art. The place is famous for its special features that reflect the country's cultural heritage. It connects Buddhist ideology with Hindu representation and has a religious and aesthetic value.
It shows a Nepalese identity. Several places around Thamel, Basantapur, Bhaktapur, Lalitpur, Patan you can feel the essence of Nepalese arts & painting.
With a fascinating and diverse culture, Nepal holds a great significance in arts and culture. Museums in Nepal and other countries display the art of Nepal. The British Museum has a big art collection from Nepal, some of which were stolen or sold illegally by poachers. Nepalese arts reflect the diverse culture and traditions from different background. Here are some of the best museum you shouldn't miss when you are around Kathmandu valley:
Patan Museum
Narayanhiti Palace Museum
National Museum of Nepal
National Art Gallery
Woodcraft Gallery
Music Museum of Nepal
Enjoy the Traditional Jatras
Jatras are the religious street festivals that are celebrated largely by the Newar community at different times of the year. To enjoy the traditional festivals in Kathmandu, you'd have to time your visit. A city wide religious festival in newari culture is called a "Jatra". There are many jatras uniquely celebrated in the Kathmandu valley. Jatras like Indra Jatra, Biska Jatra, and Bhoto Jatra involve a chariot procession of Hindu gods. Other Jatras, such as Gai Jatra and Ghoda Jatra, aim to promote community bonding.