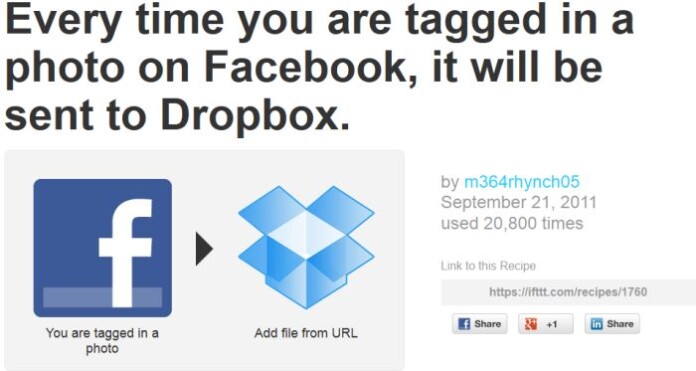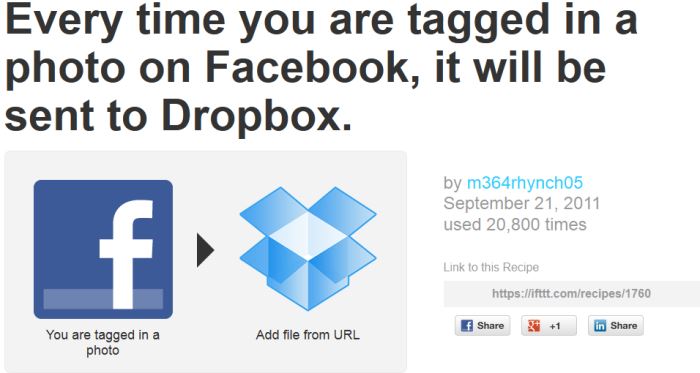 IFTTT (If This Then That) is a free online service that allows you to program your social web. And let me tell you this is totally amazing. You connect your social accounts like facebook, twitter, foursquare, gmail and others to create an event trigger to accomplish an action. And this is all done in an very easy to use interface. For example if you're tagged in facebook by your friend (trigger) you can use IFTTT to automatically add that photo to dropbox (action), given that you've connected your facebook and dropbox account to IFTTT. Isn't that totally awesome, and to know that there are tons of other triggers/recipes on the site and the service is completely free to use.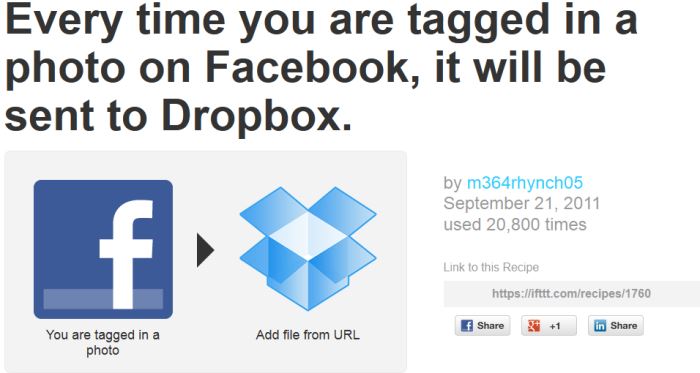 IFTTT features about 60 channels for different social sites to create recipes and get things done quicker, remind you, update your status or even get the weather forcast sent to your mobile. Facebook, Evernote, Twitter, YouTube, Instagram, Foursquare, and Gmail are some of the popular channels on IFTTT. RSS, Emails, and Time and Date channels can be used to grab content for a channel and post it to another channel or be sent to your email so you don' t miss them and times to remind yourself of something. Then you need to use your creativity to get things rolling.
IFTTT already features thousands of recipes created by users for immediate use. Once you've chosen a recipe to use you have to fill up some variables/ingredients like time, text and content into the action. Once set you can use the recipe and it will run and give you any output when there is an event trigger. You can also create your own recipes from the channels provide to fit your needs and share it with everyone on the IFTTT site.
So that about sets it up, IFTTT is build from a great idea that facilitates your web experience, social web, and a ton more. If you still haven't tried it yet, now might be a great time. Take advantage of all the recipes that IFTTT has to offer and use some of them to automate some of the things you want so much to be automated. And let us know what you think in the comments.