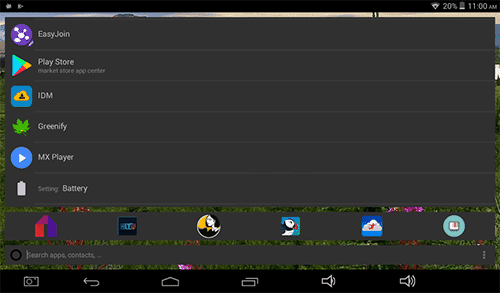 Smartphone technology is moving fast. Old Android phones just few years old are unable to compete with latest flagships on their own. They require extreme customization, mostly with custom ROM to get a good battery and fluid experience. And even then rooting and unlocking boot loader for some phones isn't something everyone is willing to do. On stock ROMs, adding regular apps for social media, browsing and entertainment slowly ruin the experience. Old phones are heaving to keep up with the resource hogs that bring down the performance and increase the battery usage.
Every smartphone owner may not have a budget to renew every year. So we choose to wait out few years to get a new phone. While apps keep piling up features, useless or not, they keep adding more with every update. Then the old phones really begin to show their age. Apps for Facebook, Twitter, Instagram all have features that not everyone uses, tracking codes and have grown exponentially in size. These app aren't made to be light and almost never optimized for older phones.
Keyboard
MultiLing Keyboard
The lightest keyboard on the Google Play Store should go to Multiling Keyboard. It's under an Mb in size and has a ton of features. The amount of customizations overshadow the need for an auto next word suggestion. You can add dictionary plugins and fonts for a huge number of languages  Although it doesn't have suggestions, it has swipe feature and dictionary support with plugins, and it is one of the most customizable keyboard out there. You can customize anything from keys, size, background to even shortcuts for other apps.
Multiling Keyboard is a dream keyboard for advanced keyboard customizers. Multiling keyboard compared to keyboards like Swipe, Swiftkey, and Google Keyboard will use much less resource to keep your phone smoothly.
YouTube
NewPipe
Newpipe is an opensource alternative to the official YouTube app. This lightweight youtube client can stream youtube videos without ads, has a floating window video player, and also can play audio in the background. Newpipe also wouldn't run in the background when you close it. For regular browsing and searching, Newpipe does the job of handling youtube videos as popup window, background playback and download perfectly well without loading unimportant stuff and annoying comments. Right now it supports subscriptions, but other youtube features like commenting, signing in are not available.
Our focus on being light on the system resource, if you can live without comments, then this will allow you to get out of your older phones. Also in itself, it generally contains many feature youtube red provides as background playback.
Facebook
Facebook Web Wrappers
Facebook is known to use malicious attempts to track users from its facebook and messenger apps. An easy way to get more battery life out of your smartphone is to get rid of facebook app and use the browser version instead. This layer of protection allows limited access to private contents of your phone, while you can enjoy being in touch with your family and friends. But there are many wrapper apps which provide much more functionality than the regular browser. Some of the popular wrappers for facebook include Simple for Facebook, Friendly for Facebook and Swipe for Facebook.
The Facebook app itself has grown exponentially with gimmicky features that will make your smartphone draw out a lot more battery than needed. While you love to keep in touch with family and friends, it uses your addition to drown you in ads and invade your privacy.
Facebook web wrapper apps give number of customization options which can be different from app to app. So, it is all up to your preference. Some allow downloading videos while other have floating bubbles for messages. Which is why we are not recommending any single app, but any one should give you more battery and performance from your old device.
Launcher
Kiss Launcher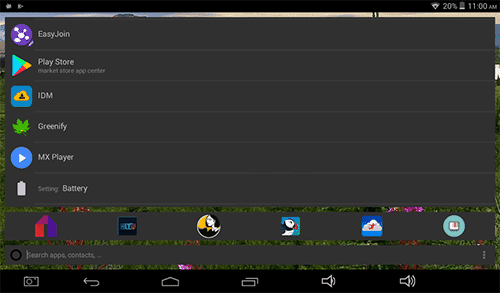 KISS launcher is a light, opensource and one of the fastest launcher that requires very little memory and processing to run. With the low overhead over your system, your phone runs faster and saves battery.
The interface isn't what you would usually see with an Android launcher. The home screen is the list of apps you visit regularly and are sorted according to your activity. Bottom bar allows you to search through all your app and contacts list, so you're just a few taps away from finding what you need. You can tap open the complete app list from the bottom left circle.
Once you get used to using the search bar, the home screen is filled with your most used applications for easy access. You'll not be missing the home screen and app drawer screens from other apps. As light as it is, it doesn't take away any significant aspect of using your smartphone while you enjoy a faster phone with more screen time.
Browsers
Browsers are still is a big part of every operating system. While apps take significant space on your devices, websites only can store data on your device as cache and cookies. While they are slower than native apps, they are very privacy-friendly.
Default browsers are featureless and quite bland. You can skip these and use something more featureful and light on resource. The lightning browser is one of them. Free and open-source it has many features like Adblock, and dark mode to make browsing on your device more intuitive.
Lightning Browser
Lightning Browser is an opensource browser that offers extensive features while being light on resources. The interface is clean and easy to get used to. Settings allow you to block ads and also invert colors in web pages to make it comfortable during the night.
Adblock
Apps are getting heavily packaged with ads and trackers. Many app developers use data mining as their primary objective to gather revenue. These ads and trackers add to the size of the application, and overhead on data and the overall processing slows down the device. System-wide ad blocking is now possible on unrooted devices with local VPN applications like DNS66 or Blokada. System wide adblock will stop unnecessary request, processing and bandwidth usage giving you the maximum performance from your device.
Blokada
Blokada blocks ads with an internal VPN with plenty of features for customization. The best thing about blokada is that it allows you to whitelist apps you want to support. So you do not have to cut revenue for genuine developers who put out great apps with minimal ads. And also it is opensource and features are added based on community feedback.
The application comes pre-configured with adblock lists, DNS list. This means you can choose your favorite host list and DNS out of the box. Additionally, You can also add your own lists and DNS to the application.
Conclusion
This is how I keep my old Android phone and tablet  fast, responsive, usable with super light alternatives to the regular apps on Google Play Store. I would love to hear what applications you use to lighten the load on your old smartphones so please let us know in the comments.