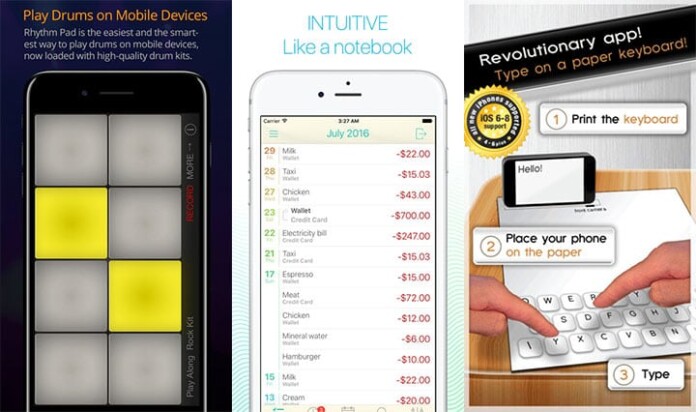 On today's list of free apps gone free on iOS, we have Paper Keyboard, Frugi and Rhythm Pad. These are some genuinely interesting apps with good reviews in the Appstore.
This is my favorite on today's free app list as this beat app lets you play drums with songs on your playlist. This makes it way more entertaining than playing random beats. You get a sense of rhythm as you play along a song. There are presets you can use on the app settings to use rock or electronic sounds. Try it out, you'll love it.
No additional in app purchases required.
Top features include:

• Realistic Open and Closed Hi-Hats function.
• 'Smart Levels': Pads sound louder at the center.
• Optimized layout for maximum playability in iOS devices.
• High-quality stereo sampled sounds with maximum polyphony that gives a realistic feel.
• Ability to configure the levels for individual pads.
• Added ability to rearrange pad positions.
• Recording Feature: Added ability to record your patterns and share your recordings.
• AudioCopy: Allows you to take the samples you record in Rhythm Pad to other audio applications.
• MIDI support: Sends MIDI via WiFi or Camera Connection Kit allowing you to use Rhythm Pad as a MIDI controller. While sending MIDI signals, drums are mapped based on General MIDI standard.
• Audiobus support: Stream audio from Rhythm Pad to other Audiobus-compatible apps.

Included kits:

• Real
• Real (with Ride)
• Real (with Rimshot)
• Real (Pop Kit)
• Dance/Club
• Chemical
• Hip-Hop
• Percussion
• Rock Kit
• Trip-Hop
• Classic Rock
• Funk Kit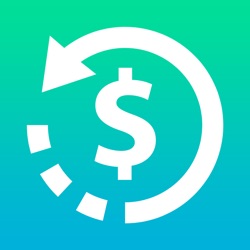 We often spend money without recording them. Where does your money go and how much, it's a mystery you only realize after you're down to the last few. Making a habit of keeping stats of your income and expenditure are one of the best way to organize your life's spending. You start understand if you are spending your money unnecessarily. This app helps track all your transactions to give you a better understanding of your financials.
No additional in app purchase required.
Using Frugi, you will be able to simply manage all your payments and incomes.
Frugi has been designed in an intuitive way that without any instructions you can manage your budget.
Within three seconds you will be able to insert a transaction, and all calculations are done automatically.
Interestingly, you need considerably more time while jotting it down on paper even if you don't make any calculations.

Key features:
– Fully localized
– Simple design for easy use
– Classifying monthly expenses and incomes
– Smart calendar for displaying all items of a day
– Supporting multiple calendars:
Gregorian, Buddhist, Indian, Japanese, Islamic, Persian
– Using smart tags
– Recognizing and extraction of tags based on input data
– Using tags for advanced search
– Presenting statistics in "Tag Cloud" format to see the monthly budget in one glance
– Supporting all monetary units
– Future lists
– Setting alarms to remind future lists
– Displaying one day items with different colors for different days
– Adding/editing items on the calendar
– Showing item differences between two months (current and previous)
– Using multiple accounts
– Balancing transfers from one account to another
– PDF output
– Excel output
– Air print
– Choosing your favorite theme
– Defining the last day of financial month
– Using Passcode and TouchID (finger print) for security
– iCloud Backup
– iCloud Auto Sync
– Today Widget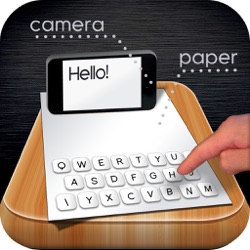 This is an interesting project that allows you to use a paper printout to use as a keyboard. Although it may not be practical in many scenarios, it does provide a different perspective of what your iPhone is capable of. You however need a printout to get started so this will need some preparation to begin with. The app has gone free and you can try it without hesitation.
In app purchase for unlimited text typing.
• Use a piece of paper as a keyboard
The app works on letter-size and A4 paper as well!

• Several games are available in the app
Collect the letters of quotes, typing games, ball games etc.

• Built-in chat client
You can chat with your friends with the keyboard using several platforms

• Send emails directly from the app
Are you tired of typing a long email to your colleague? Use the app and the keyboard!

• Write anything and paste the text into any app
Use the paper keyboard and paste your text in any text editor to format.

• Special characters are on the keyboard as well, so you can write java, sql or any code with the app, and paste the text in the appropriate editor.