Puffin Incognito browser is the latest addition from CloudMosa. It is the company's latest free offering after its strategy to go to a subscription-based plan. It also plans to discontinue the single purchase Puffin Browser Pro app in 2023. Here is what I think of the browser.
A little backstory
Puffin is a cloud browser, which means there's a cloud server you are connecting to — where you do all your browsing. Your phone just mirrors the screen and matches your gestures on the remote server, somewhat similar to a remote desktop session. There is an additional cost to operating and maintaining them for optimal performance. And it's understandable that the company needs a steady supply of income to keep those servers running.
Initially, Puffin had a free and a premium (one time purchase) offering. But as the company implemented its new business model to limit free usage, it has been getting a backlash from its users. The backlash comes from both the limitation on the free Puffin browser and the discontinuation of the pro version (slated for 2023). However, the company doesn't seem to be deterred by it and continues to mock people who react negatively with their ratings. Obviously, this back and forth with the users tanked their ratings and they're both around 3.0 on Google play and Apple app store.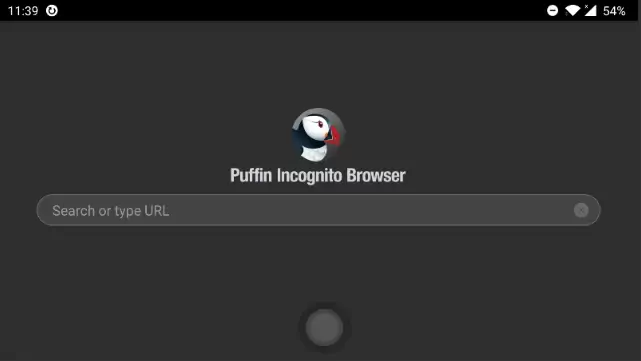 Puffin Incognito Browser
Then comes the release of Puffin Incognito Browser. Its been on Android for a while and now its available on iOS. As the name implies, it is the same Puffin browser, but without permanent storage for cookies, cache and history. There are minimal customization settings, but being a UI friendly app has never been Puffins' strong suit. As the browser goes idle in the background, it deletes your session completely. It also doesn't forward your IP address as it used to in previous products.
The Pros
The advantage is that this is probably the most private browser in the market if you are to trust CloudMosa. They isolate your device against direct threats like tracking, malicious websites, crypto miners and system exploits. The disadvantage is that you have very little options and without any cloud browsing alternatives, things aren't going to get better. Let's discuss the advantages.
It doesn't forward your IP to the destination website
Adblock available out of the box
Blocks screenshot by default
Sessions cleared when idle in background
New session with new IP with every app launch (cold start).
Get a new session with a tap of a button
DuckDuckGo is the default search engine. Use bangs to search on other search engines.
The Cons
Disadvantage includes the first time you open the app, input a website, and press enter, but the screen won't change. You need to open a new tab and then switch back to the previous tab to continue browsing.
The app is buggy at every start (on Android)
DuckDuckGo is the only search engine available
User Interface is unintuitive and not customizable
The chromium base they use is still stuck on version 79
No download/upload/sharing/context menu
While these may not be a deal breaker, they are some drawbacks to user experience and site compatibility.
Conclusion
Puffin Incognito Browser isn't meant to be your default browser, so it accomplishes its goal of being private — while being on the cloud. It may not be private conforming to everyone's expectations but It's private in a sense it hides your browsing activity from everyone except CloudMosa. Absolute privacy on the internet is hard to achieve and you're placing your trust on one or more entity every time you browse the Internet. Puffin Incognito Browser does this by preventing being tracked around the internet by trackers, ads, your ISP or even the operating system. While the interface would use some work with bottom navigation, it's not a deal breaker. And it works well as a secondary browser for accessing geo-locked content.