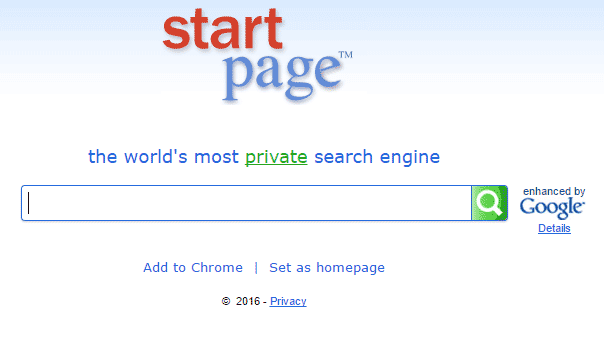 Startpage is a search engine that tries to help people who are concerned with privacy. Google's main business revolves around tracking people's activity to supply better advertisement for their advertisers. However, there is a growing consensus that Google knows more about people than they need to. With the popularity of Android, Google Chrome and a lot of many services tied to Google like maps, calendar, there is some way your device is communicating with Google.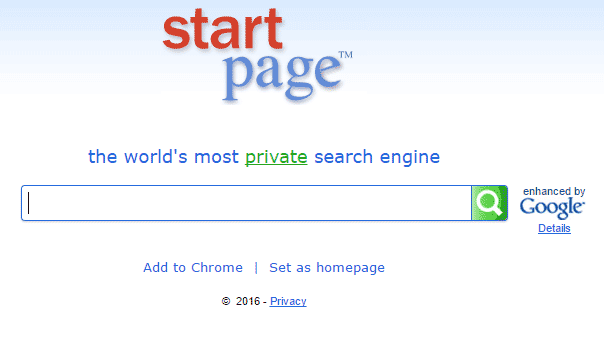 Startpage tries to enable its user a safety net from your searches being tracked by Google. You might say that you can go incognito or use a different browser. However, the device is still linked with an IP address, and if you are using chrome, chrome ID which can be associated with your account.  With Startpage, you are using a different service all together that has no ties with Google. They only get the exact search results from Google and pass it on to you without any tracking involved.
An additional benefit with Startpage is that the search page allows customization similar to Duckduckgo settings. This allows you to set a number of results per page. The page theme, choice of servers to use, use of GET or POST request and more. I love the dark themes as they do not stress the eyes during the evening and nights with low light conditions. Check out the settings here.
While searching on Google may not be as bad as it sounds, it does raise a question to how much information you are submitting to a company who's business is selling the data for profits. It is also important to mention that ability to gather and use the data allows Google to offer it is services for free. The services that have grown to help people with productivity and management. It is up to you to consider your options.
Even though you use search from Startpage, they are many other ways Google may be tracking you, and this is something for too paranoid to think about. Startpage is just an easy way to get what you are looking for without the prying eyes of the Google. Most people have no problem with all the tracking as "they have nothing to hide". However, imagine telling a stranger everything you do. You might not feel the same way because it is a computer but it is a smart one.
As compared to Duckduckgo, as the searches are directly from Google, they tend to be more relevant to what you are looking for. Duckduckgo has great features but sometimes the search results do not really get you to where you want. I personally use Duckduckgo for searches related to code and technology, but for better results on other queries I use "!sp" syntax to get to startpage.
Be sure to check startpage out if you just want some customizations, the privacy may be an added benefit. However, if you want more privacy from Google, then this might be an ideal search engine for you. For me, I think I need to get used to the interface. Moreover, would love a feature for automatic theme change according to the time on your device.
Be sure to let us know what you think about Startpage.