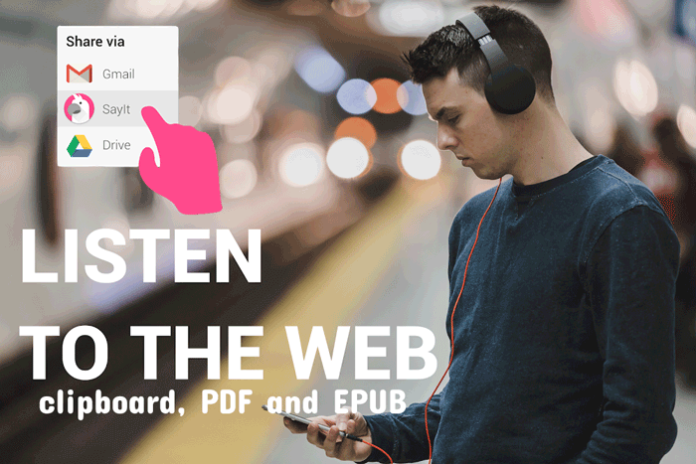 SayIt is an accessibility application for Android that reads out news, blog posts and articles from the web. Additionally, it can read from your clipboard, PDF, and EPUB format as well. You can avoid the need to stare at the glaring screen as the application reads the news, article or a book to you as you commute, rest or drive.
Handy Features
The Sayit app is really easy to use and also isn't very configurable at the moment but its basic features are:
Being able to parse websites to extract content
Detect language automatically
Speech Speed Controls
Choosing the appropriate TTS voice for that language
Speech navigation control in the navigation bar.
The app can switch through multiple TTS voices only if you have set Google's multilingual TTS engine as default. If you have installed any other TTS voice like IVONA or Voxygen.
It downloads an article, blog or news in reader mode when you share a link from a browser or an app. This triggers an overlay to download the content and parse the language of the content being filtered. Once it does, it will switch the TTS engine to use the voice matching that language. And then it will start reciting the content it discerns.
Lapses for SayIt
Poor reader mode/article parsing
The bad aspects of the app are that its reader mode is very poor compared to other browser modes that filter out content on reader mode. The SayIt app will read out the title twice, words like Advertisements and even related articles that are not part of the article itself. This can sometimes make you feel lost when you start hearing a different text or the word advertisement in between content. There is speech navigation control if you feel you missed or misunderstood something because of poor article parsing.
The parser also sometimes cannot extract the content and will keep loading or will just get stuck on "speaking" state without actually speaking anything.
Inconvenient speech control
The speech control is placed on the navigation bar so every time you miss something you'll have to roll down your navigation bar to go back a few sentences. You can also play and pause from this navigation bar support. But this isn't a music player, while reading a book or news article we may misunderstand something and want to go back multiple times to grasp the idea. Having the control on the navigation bar is rather inconvenient. A floating bubble interface with play/pause, forward/rewind interface could be much more user-friendly.
The paid version is no different than the free version in terms of features. The free version only adds a "you're listing using free version" speech at the beginning of every recitation.
Overall, while it's current feature isn't much different from a read later app with TTS feature like Pocket or Instapaper, it is a handy tool to listen to the news and long text without having to stare at the screen. However, it could use some new features like an overlay speech control app by ditching the notification control.
Let us know your experiences with the app in the comments.
[review]