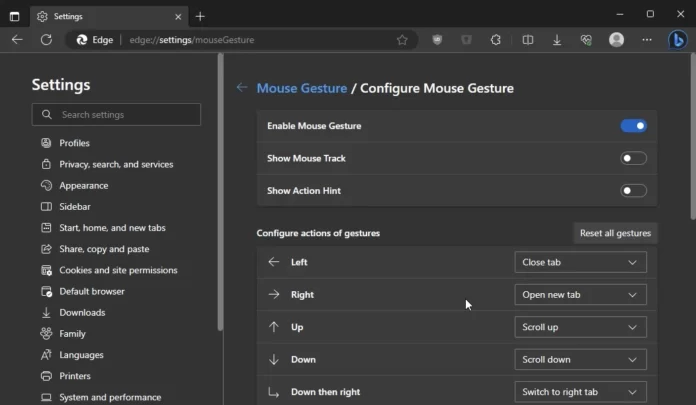 Microsoft Edge, the popular web browser, has introduced a new feature called Mouse Gestures that allows users to perform quick actions and access various features using their mouse. If you have used the Vivaldi browser, you would know there is a feature that lets you control browser actions through mouse gestures. And it is very intuitive and time saving. Microsoft Edge has something similar in the works. In this article, we will explore how to enable and use this feature in the stable version of Microsoft Edge.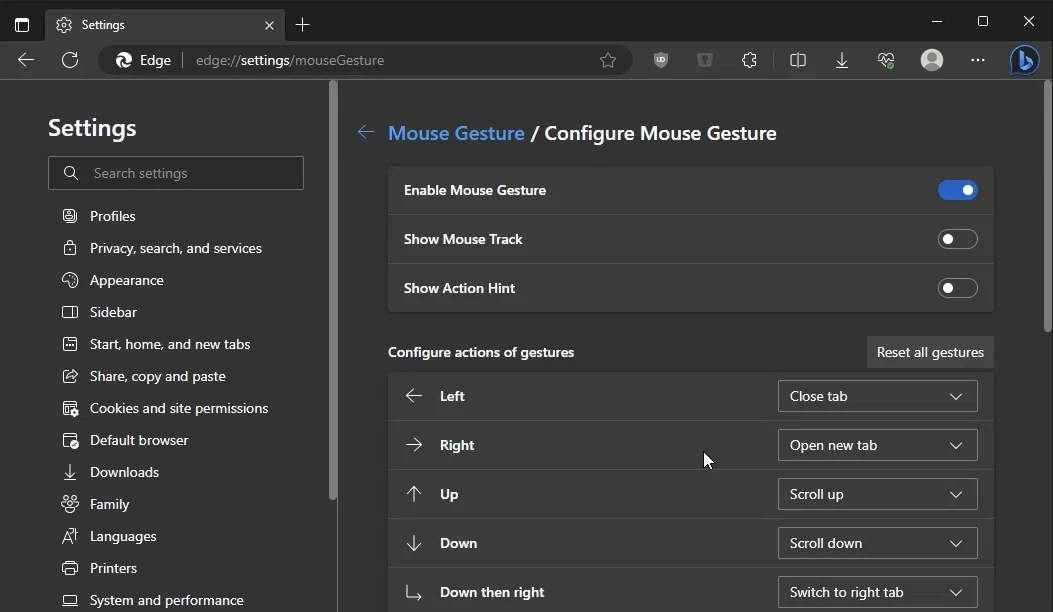 Enabling Mouse Gestures in Microsoft Edge
Microsoft first tested out this feature in the preview version of Microsoft Edge Canary. But since version 114, users can enable Mouse Gestures in the stable version by using a command line flag. To enable this feature, follow these steps:
Access a shortcut of Microsoft Edge (desktop, start menu, or taskbar).
Right-click on the shortcut and click on "Properties".
In the "Target" field, delete everything after the quotation marks.
Leave a space and enter the command line flag provided.
--enable-features=msEdgeMouseGestureDefaultEnabled,msEdgeMouseGestureSupported
Click on "Apply" and then close and reopen Microsoft Edge. Check to see if there aren't any Microsoft it's processes running in the background.
Please note that you need to have at least Microsoft Edge version 114 or newer for this feature to work. You can also run the following command from command line, run window or Autohotkey.
msedge.exe --enable-features=msEdgeMouseGestureDefaultEnabled,msEdgeMouseGestureSupported
Configuring Mouse Gestures
Once you have enabled mouse gestures, you can configure them based on your preferences. Here are the steps to configure mouse gestures:
Open Microsoft Edge and go to the settings menu.
Navigate to "Appearance" and scroll down to find a new section called "Mouse Gesture". This feature is on by default.
Click on "Configure Mouse Gestures" for further customization options.
In the configuration menu, you will find various options, to enable or disable mouse gestures, show mouse trail, and displaying action hints. While there are default actions associated with each gesture, you have the flexibility to customize them according to your needs.
Using Mouse Gestures in Microsoft Edge
To use mouse gestures in Microsoft Edge, hold down the right-click button on your mouse while performing specific movements:
Moving your mouse to the left will take you back to the previous page.
Moving your mouse to the right will move you forward to the next page.
Moving your mouse up or down will allow you to scroll in the corresponding direction.
As you perform these gestures, Microsoft Edge highlights your mouse trail and provides hints about the executed action. You can turn off the trail and the action hint display in the settings.
It's important to note that there are several other gestures available, and we can customize each gesture with different actions. Experiment and find the configurations that work best for you.
When will it be available without the command line tag?
We don't know. It might arrive in Microsoft Edge 115 or it might take a little longer. Or it might never be shipped by default. Such is the world of browser development. However, As Microsoft is trying very hard into making Microsoft Edge a efficient, multitasking version of Chrome, it is likely this feature is not going away. They've been scooping features from other browsers like Opera and Vivaldi, but as a default browser, it does a lot of things out of the box.
Mouse Gestures in Microsoft Edge offer a convenient way to navigate and access features using simple movements of your mouse. While this feature is not available by default, for now you can enable it by following the steps mentioned above. So why not try it and see how Mouse Gestures can enhance your browsing experience in Microsoft Edge?