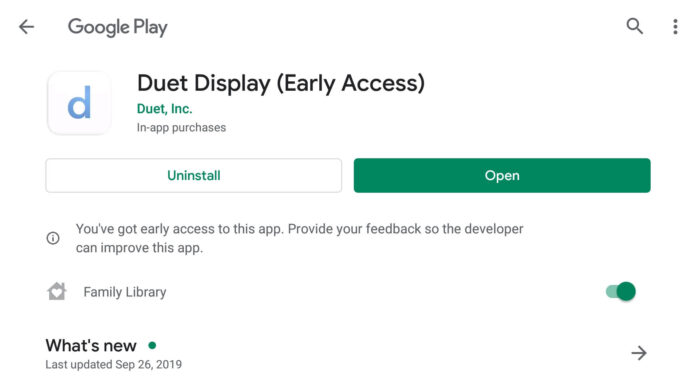 Duet display is a productivity app that allows users to use their smartphone or tablet devices as a second display. The smartphone screen acts as a second monitor that mirrors your Windows or Mac so you can use it as a companion screen. Since smartphones and tablets are more comfortable to carry than regular monitors, it makes it ideal for multitasking on the go with your laptop. We got to try out the first beta build for Android, and it was impressive enough to share the details with everyone. As this is a beta, it is not complete, and some feature is not yet available, namely remote desktop.
Duet display has been an iOS exclusive since 2014. Now the company is testing its android application with an open beta testing applications through their website. The applications for testing have ended, but you can pre-register for notification when the application releases on the Play Store.
Currently, the android application requires Android 5.0+ devices and only works with a wireless connection. The computer and the device have to be on the same Wi-Fi network for operation. Remote connection options are not yet implemented. Even with wireless connection, the application is fluid enough for multi-tasking. There is some lag at times but is barely noticeable.
The android application itself has no settings implemented yet. There is just button with the question mark sign for a brief tutorial for initiating connection. The connection is initiated through the computer application.
The screen on your smartphone/tablet responds to the touch, double click, two-finger scrolling, pan and zoom, and drag selection gestures. No on-screen keyboard and drag and drop gesture available for now. However, it is still currently in beta so that we can expect much more fluidity and features after release.
Here's a video of Duet Display on my phone screen:
I also tested this on a smartphone, which is not an intended audience for duet display. With larger screen tablets, it should provide more screen for multi-tasking and collaboration opportunities.
Connecting to your Android device is simple:
Open duet application on your Windows and on your Android device. when the desktop application detect the device, it shows a "Device detected" text at the top-right corner.
Click on the "Device Detected" text which leads you to a new window to find your android device
Double click on the device name to start a connection session.
That's about it for the Duet Display application on the Android operating system. We will  share important updates and the release in the future posts.