Signal is a privacy focused open-source application from the Signal foundation. Every interaction is end-to-end encrypted by default. Signal performs periodic automatic backup to local storage on Android. The downside to it is, your device can get lost or damaged without any warning. Signal requires a mobile number to sign up and seamless sync is not possible yet. Signal also exposes your number if you are on a group chat. These problems are nominal compared to privacy provided by closed source applications. In this article we will learn how to backup signal messages to cloud on Android.
This extreme focus on privacy does however limits portability. You cannot seamlessly sync with multiple smartphones. You can sync chats with a desktop application but it is slow and cumbersome. You can prevent accidental loss of your messages by moving Signal backup folder. To a different local device or cloud storage for convenience. As the Signal cryptographic protocol hasn't been successfully broken publicly, it may still be safe to store it in your own cloud storage.
To do this you have two free apps on Android. Syncthing and Foldersync. Syncthing is open-source but it does not support cloud options. Foldersync contains multiple cloud storage locations but is not open-source. Foldersync has a premium offering but free version does not lack any feature. Syncthing targets local sync while Foldersnync is a multipurpose sync tool.
Foldersync
Foldersync provides a robust remote backup features at no cost. The difference between free and premium version is only ads. At the time of writing Foldersync supports these remote sync locations.
Amazon S3
Box
CloudMe
Dropbox
FTP
Google Drive
HiDrive
Hubic
Livedrive Premium
MEGA
MyDrive.ch
MyKolab.com
MinIO
NetDocuments
Nextcloud
OneDrive
ownCloud
pCloud
SFTP
SMB 1/2 (Windows)
Storegate
SugarSync
WEB.DE
WebDAV
Yandex Disk
You have local and self-hosted options if you want to keep your backups safe from third party cloud providers. SMB 1/2, FTP/SFTP, ownCloud, Nextcloud, and WebDav servers are all under your own control.
Backup Signal messages to cloud
To back up your Signal encrypted messages on FolderSync, It needs a cloud or local sync location. We'll be using Dropbox cloud storage as a demonstration for this article. To add Dropbox, authenticate Dropbox from the accounts tab which will make it appear as one of the usable accounts for sync.
Now, you have to create a folderpair with the account you just added. A folderpair is a set of configurations to sync local folder to a remote location. User needs to select local folder, remote folder and filters. Settings include two-way sync or one-way sync.
After the configuration is complete, You can start the sync manually or set to run it on a schedule. Foldersync will then start checking the files on local Signal backup to prepare for upload. Depending on your folderpair configuration, it will replace and delete files on the remote folder to the latest version. I prefer to run tasks manually as I do not want it running continuously on the background.
When the upload completes, the folderpair should show a green icon reflecting the sync was successful and without errors . If any errors are encountered, warnings will appear.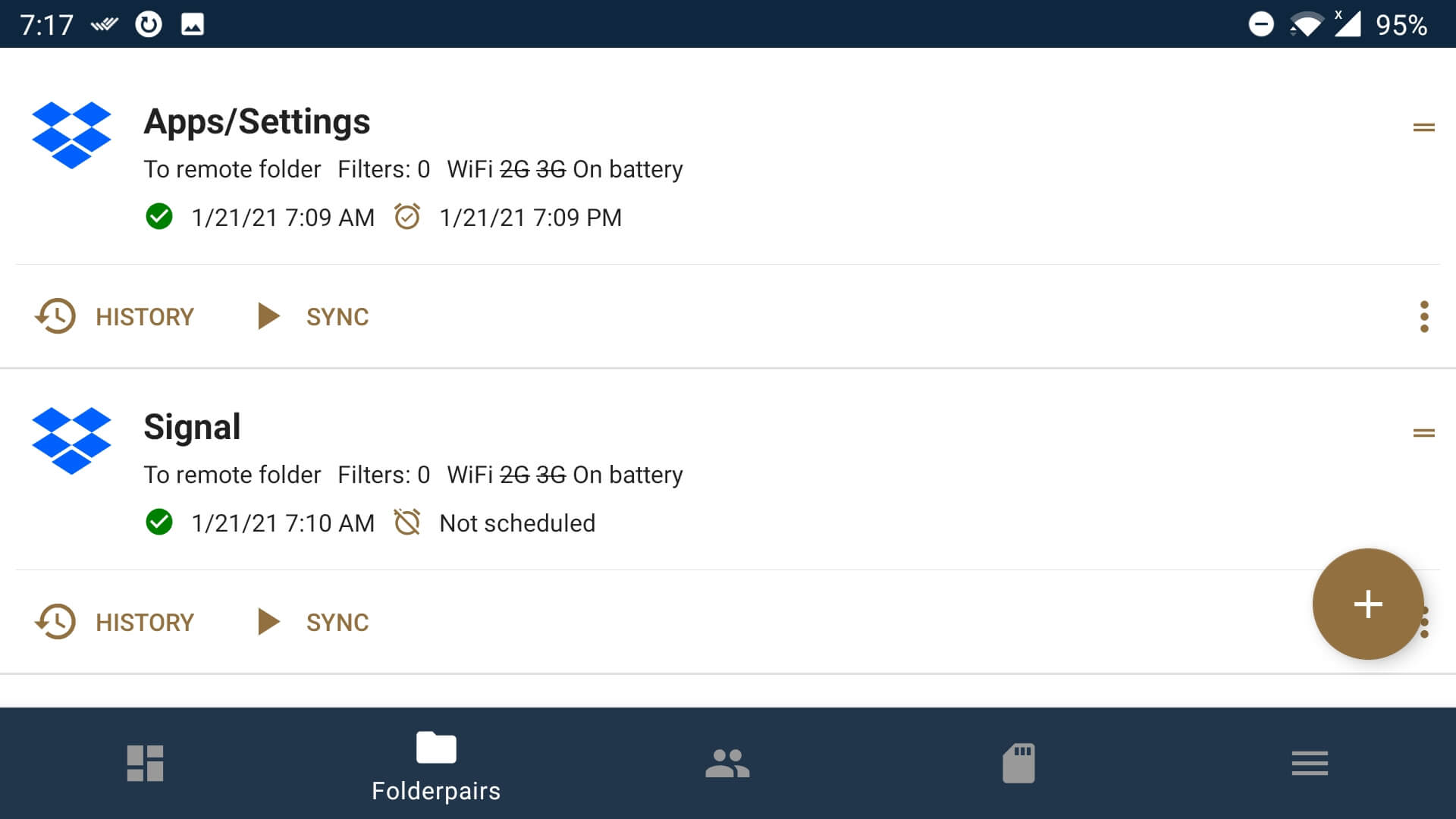 Finally,
This is a good method to keep your signal messaged backed up on the internet. The encrypted messages are inside encrypted files. The Signal cryptography protocol is open source and audited by security researchers so its a competent protocol. Signal protocol implementation is used by a number of other chat messengers like WhatsApp, Viber, and Facebook Messenger. Foldersync is also a reputable app with good reviews so you're in good hands while backing up your Signal messages.