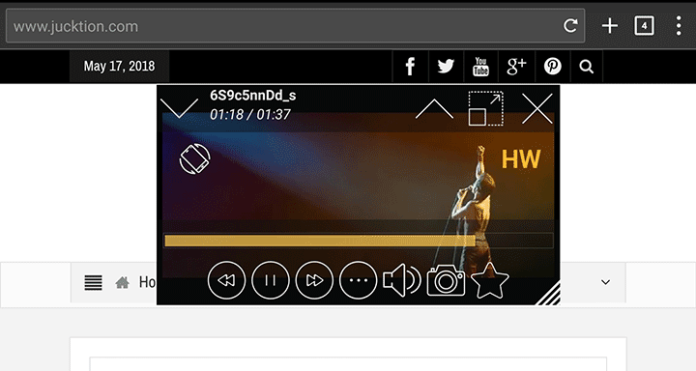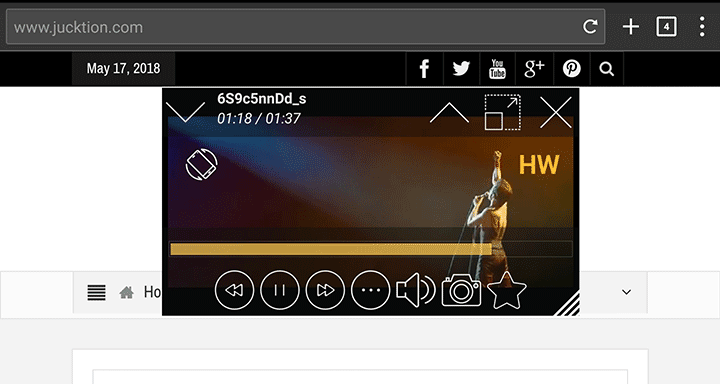 Some people do a few things on their smartphone while other people do lots of things on theirs. The later would like to do things faster without the annoyance of switch apps every time. When you encounter a youtube video on an app, you will have to switch to the official app to watch the video. With a floating YouTube player. you can watch the video overlayed on your current application, be it facebook, reddit or twitter. These are the android floating youtube player applications we think are most interactive and convenient. Youtube Red is a subscription service that offers, background playback, adfree viewing, offline downloads and uninterrupted playlist.
NewPipe
NewPipe is an open source youtube floating player, background player and subscription manager. It offers background playback, adfree viewing, offline downloads and uninterrupted playlist queuing. It is light, customizable, and is free from any analytics and tracking code. It is essentially a free Youtube Red subscription without the comments and youtube originals.
You can not link your youtube account through the app. However you can download the XML export of your subscriptions from your youtube settings to import them into the app. Utilizing the floating player is as easy as opening a youtube link from any app. You might need to set it as a default application to open youtube links in latest version of Android.
The floating player however isn't as customizable as Lua player and you have to use the notification bar to close a floating window.
It is an open source app, it doesn't have any ads and the updates are regular. Youtube Red is only available in a few countries. If you can't afford the Youtube Red subscription or aren't geographically able to purchase it, this will be of some consolidation.
One of the shortcomings of NewPipe is, it doesn't sort your subscription videos according to publication date. It is being worked on as we speak so don't let it bother you much. You have to reach your notification drawer to close the floating player window which is a little inconvenient.
Stream
Stream is a dedicated application for youtube floating player functionality with a focus on music videos. It can stream youtube videos in a popup window without having to switch apps. The popup interface only has close action bar so it might seem a little less intuitive. The action bar also has to be activated in the settings. Additional controls are activated when you tap on the floating player window which takes quite a lot of the screen estate. The queue is also viewable only in a portrait mode.

The main focus of Steam is to appease music lovers. You can create playlists, create an automated playlist from a song similar to Pandora and Spotify although it seems like it is generated from youtube recommendations.
Additionally, you can choose to have an account on the app to backup your playlists. And you can also connect your youtube account to import playlists as well.
Lua Player
Lua is a full-blown video player with the ability to play videos as overlays by default. And it's youtube floating player is also the most interactive. You can share a youtube link from the share menu and a pop up player will start streaming the youtube video. Share more links to the app to add them to the playlist.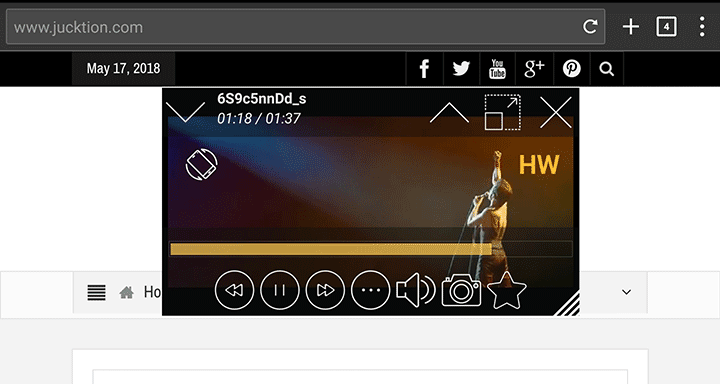 The Lua floating youtube player interface has the ability to raise and lower brightness and volume in the floating player with gestures as you would on MXPlayer or VLC. You can also play, pause,mute, take a screenshot and favorite the video you are watching with icons. You can rotate the screen and also check the play queue. You can lower the volume, resize the pop up size and also close the pop up from menu on the floating window.
If you want to use Lua player as your streaming app, you won't even have to give it storage permissions to utilize the youtube floating player functionality.
Did we miss something, Do you know any other amazing youtube floating player that isn't modded youtube app? Let us know in the comments.