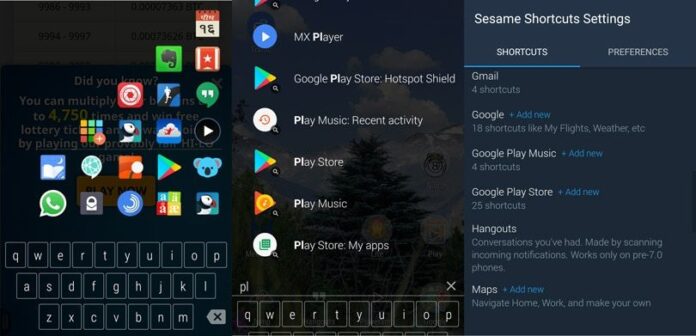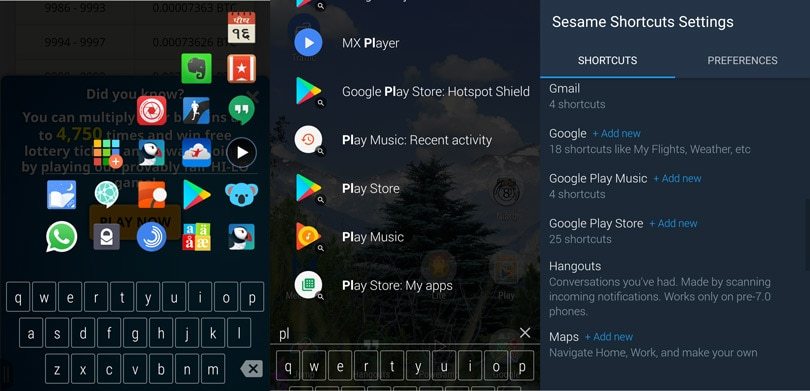 Different mobile operating systems have different ways of displaying apps. iOS has all its apps on the home screen bars while Android has Launchers which feature home screen, app drawer and widgets. This has been the norm since the popular operating systems got hold of the market.
Sesame has withheld developing on edge gesture as Google is limiting overlay applications. Sesame in turn has been integrating itself into Android launchers like Nova, Hyperion, and Lawnchair.
However, the customizability of Android has allowed developers to create overlays over other apps. So developers can create apps for easy access to recent apps and or search for contacts or apps while working on the different app. I consider myself a heavy multitask-er and have used numerous apps to make switching to apps easier. Sesame shortcuts is something I used since day one and have stuck with it ever since. They also recently added tablet support in the last update.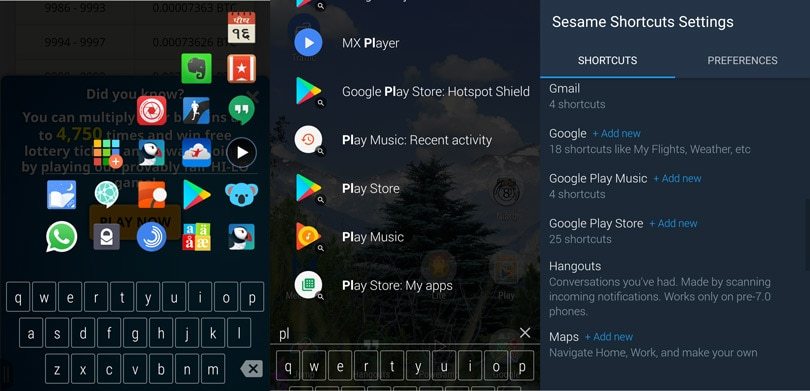 Sesame shortcuts allows you to have most of your apps shortcuts, contacts and apps at your fingertips. You can interact and search the list with just a tap on the edge of your screen or with supported Android Launcher. Sesame can gather shortcuts from Chrome, Youtube, Play Store, Google App, Uber, Spotify, Slact, Reddit, Telegram, Tasker, Twitch, Settings and just about any app you have installed. For select applications like browsers, you can add your own custom shortcuts to open the links on search. You can add additional custom shortcuts for apps like Google, Tasker, Tapatalk, Hermit browser, and Phone. For apps that allow search, you can add custom search keywords as well.
If you want to go to battery configuration, just tap on the Sesame edge and type "battery", you'll be shown the settings shortcut that takes you there. And with its intelligent learning, it learns to sort your preferred apps. You will soon not even have to type in complete names of the shortcuts, just a few letters will do. It also ranks apps and shortcuts based on your app usage to make multitasking much faster.
The highlights of Sesame shortcuts allow you to:
Directly access app shortcuts by just searching for them. Without the use of home launcher. Check your app updates by easily searching "my apps" and tapping on "Play Store: My apps" shortcut.
On specific apps like Chrome/Youtube/Google App/Play Store, Spotify, etc. you can hold the icon to initiate app specific content search. Like finding a song on Spotify or a place on Google Maps.
You can also message, call and view contacts directly through the overlay screen.
Recent and frequent apps are pinned so you can switch to apps flawlessly
Direct integration with popular launchers allow you to search all your shortcuts directly from your home screen
And you don't even need to go back to your home screen to accomplish these tasks. Sesame acts like a multitasking powerhouse for all your needs.
Switchr was one of the first apps to impress me with multitasking with a lot of customizations. There were other offerings like Pie control, but they were most popular in the custom ROM scene. Switchr made going back to list of your favorite apps and recents list a swipe away. The same action would have taken at least 3 taps (home button-App drawer-Open app) with traditional Android launchers. But Switchr was discontinued when a newer version of Androids stopped allowing apps to access recents app list. But since then, there have been many similar apps which use Accessibility permission to log the app usage of the users.
Although Sesame works a little differently with lesser customization for UI, it makes up for it in being smart. As you use Sesame to call contacts, search apps and shortcuts, it learns which apps you prefer and ranks them higher for the text you search. And next time even before you can complete a word, your recommendation would be spot on.
Sesame shortcuts currently has 3 modules; Lock Screen, Screen edge and Nova Launcher Integration (which is the latest addition). With Nova integration, you get the power of sesame search through the Nova search bar. Which is awesome but you'd have to go back to Nova launcher to use these. And our goal is to avoid the launcher and still be able to switch through apps in a flash. And for apps like Play Store, Youtube, Chrome, Spotify you can search directly by holding their app icon in Sesame.
Sesame Shortcuts Edge App Switcher
The edge feature is the most popular among users. And it definitely has more customization to play with. You can setup where the edge bar stays, its height, width and also colors. Once you press the edge bar, a list of apps appears based on your apps usage.
You can customize this setting to display recent, most used apps or hybrid (meaning mix of both recent and most used apps). The keyboard also can be switched from default Sesame keyboard to your system default. This allows you to swype words which Sesame keywords doesn't allow yet.
Sesame Shortcuts Lock Screen
Sesame lock screen basically sits before your lock screen. You can initiate search right away, and once you tap on a contact, app or shortcut, you will be shown the device's unlock screen to unlock the phone and start using the app. I love this feature as fingerprint sensors are fast to unlock the device, but it might slow down older devices and create problem while trying to unlock the device in a hurry. Which is why there's a toggle to disable the lock screen. Additional options include downloading wallpapers selected by the Sesame team. You can also get notifications on your lock screen through Sesame lock screen. But they aren't a preference as Android handles lock screen notification privacy much better on 7.0.
Some of the features shown here are only available in the pro version of the app. This includes screen edge customization and pinning of favorite apps. As always let us know your experiences about Sesame shortcuts in the comments.
[review]