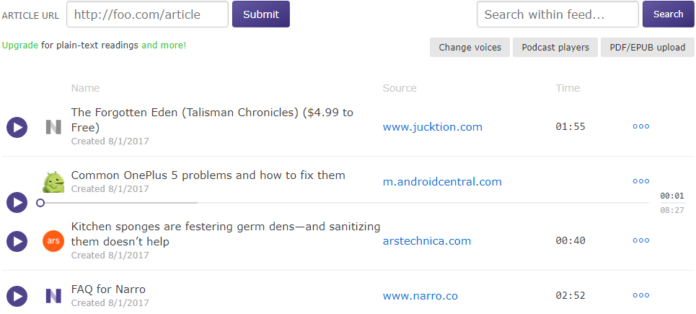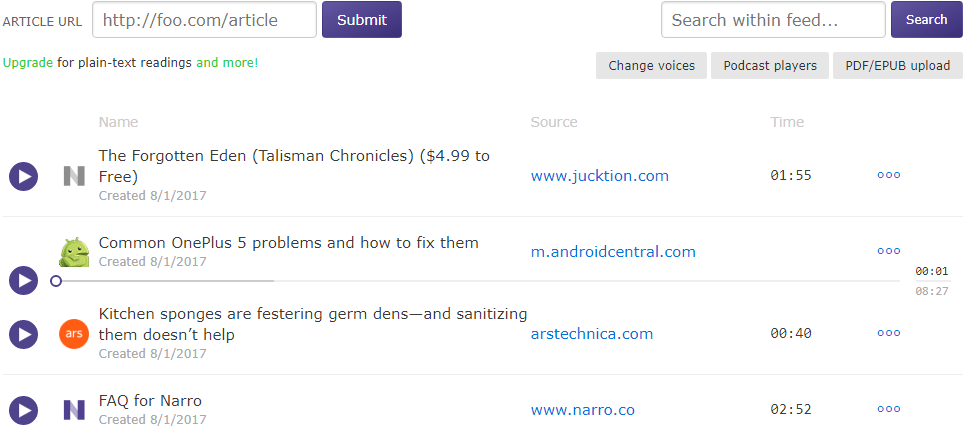 Narro is a new Article to Audio service in the market, but it's based on an idea I've always wanted. Being able to listen to articles without reading on the bright screen. You submit a link with an article and the app intelligently strip out the unnecessary content and just turns the piece into an audible audio. This saves your eyes from reading the long text on your bright smartphone or tablets. This to me is an alternative to a discontinued app called Umano, which had voice artists reading out news articles. Oh, I miss it so much.
Narro is perfect for those who don't want to look at their screen while reading long text articles. What Narro have done right currently is they have very high-quality voice synthesisers. You can choose from sounds from with US, UK, Welsh, Australian, and even Indian accent. They even have young boy (Justin) and girl (Ivy) voices which might suit the younger audience. Others include robotic sounds and one even sounding like Stephen Hawking. You can choose from 25 sounds to vocalise the articles you add. Choose the voice before you start processing your articles as the audio are a recording of the voice synthesis rather than real time text to speech.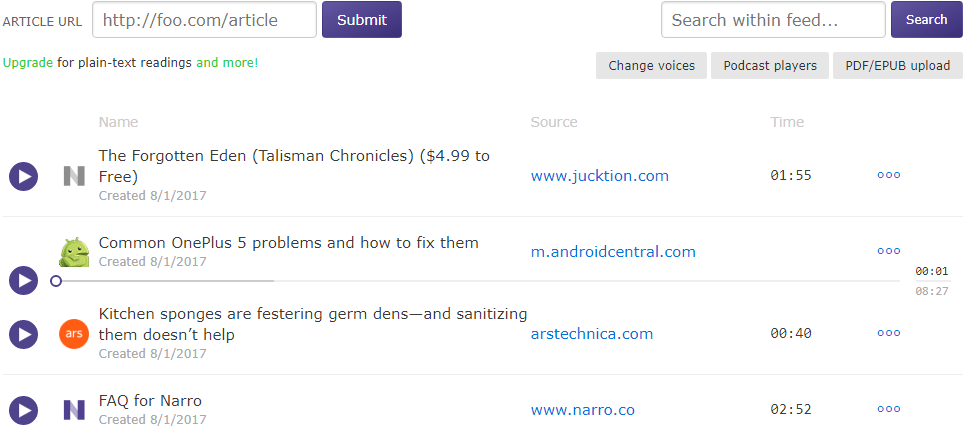 The desktop website is well made and adding articles is pretty easy and straightforward. On the Android app, you have to share links to the app through other apps and wait for the Narro app to load the audio content. And since there isn't a refresh button, you'd most likely have to close the app or navigate around and come back to see if they are loaded. However, the audio conversion is done incredibly fast. Our test with an article with around 250 words was converted in just a few seconds.
The app also has apps for iOS and Android. It also has a Chrome extension and can integrate with other services like Instapaper, Pocket, IFTTT, RSS and email. Some of the features require a premium subscription to initiate.
Narro seems to be in early after development phase. And as the reviews show it doesn't quite have the fan base yet. Their premium subscription is not cheap either. At $8 a month, you can add unlimited articles but do people read that many articles to justify the expense. The free offering allows you 8 article additions a month (15 if you verify your email), and I honestly think it beats out reading long texts on white screens.
The problem with a free account is you have to decide on when to use the service. A short article still counts against your allocated number of articles. So you either wait for a very long interesting article or just use it up and wait for the next month's share. I wish they'd switch to time-based approach to let free users have time limited free reading. This way users could just carefully read summaries of the articles rather than the whole article. They could also utilize a referrer model where referee gets additional time for extending their service.
I have only tried their Android app and it isn't very polished. So you are going to like it more on a desktop browser. The Android application seemed to be just a wrapper for the website which messed up different sections without proper navigation. This can clearly put off first-time users. You also cannot change or I couldn't find a way to change other voices, which is one of the strength of the Narro's service. The Android app is best used just to add articles you find interesting or to listen to audio Narro has saved before. Trying to configure anything else made for an annoying headache. Hopefully, an overhaul is on its way as it makes the service seem unprofessional. Their article scraping mechanism isn't quite perfect either. Adding an Arstechnica article only read out the featured image caption which appears at the top of the article.
But apart from that, the article to audio is a great idea. It saves time and causes less stress to your eyes. I hope to see Narro grow and be able to offer cheaper subscription packages. Other competitors may also come up with better offerings to give users more options to choose from. Right now there doesn't seem to be many choices in this category.
[review]