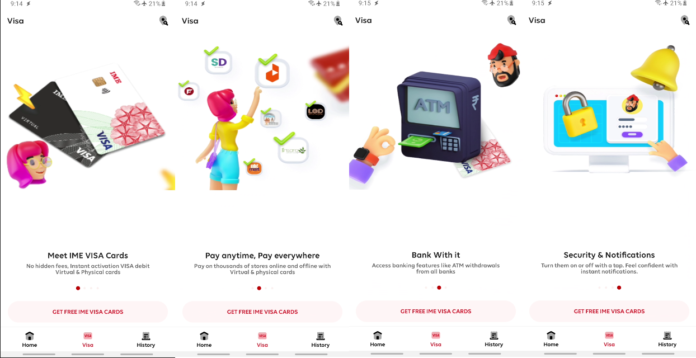 IMEPay is an up and coming mobile payment service in Nepal. To compete with the likes of eSewa and Khalti, it has some pretty outstanding features to take on the mobile payment service market.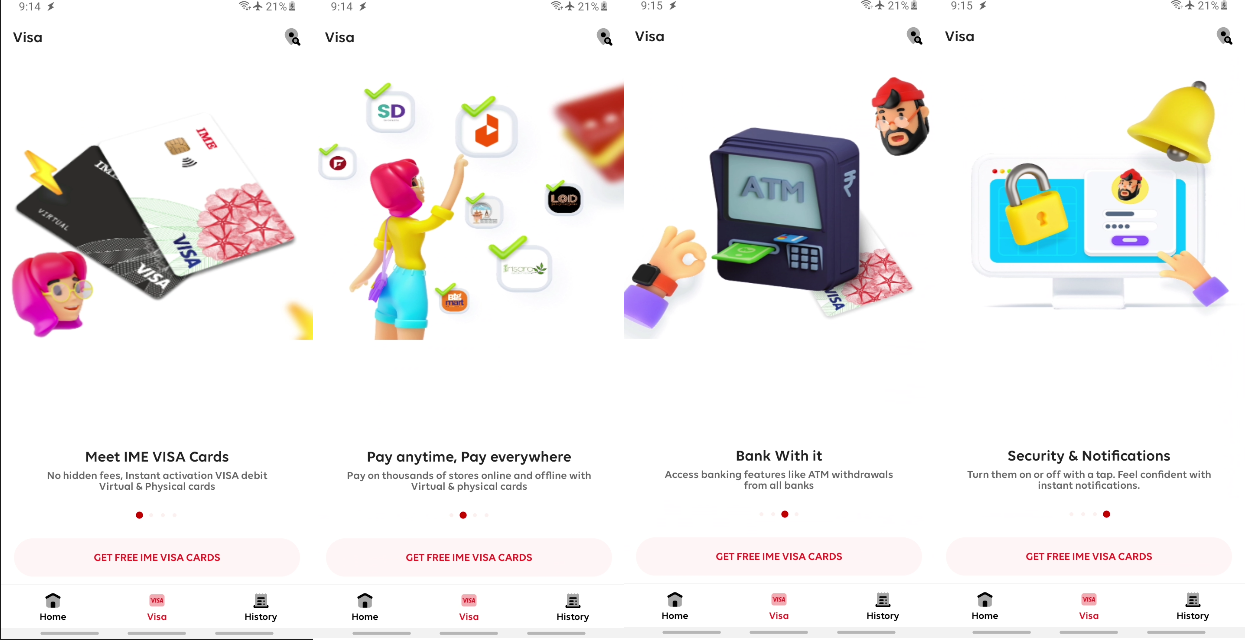 It offers a free VISA virtual debit card you can top up as you need. You can fund the card with mobile banking, e-banking, ConnectIPS or by linking a bank account. Offline, you can find an IME agent to add balance to your account free of cost. You can also get a free physical card if you require it for ATM withdrawals. The best part is there is no yearly fee for holding on to the card.
IMEPay provides you with:
A virtual VISA card
Physical VISA card (same card details as your virtual one, if required)
It offers interest in your wallet balance
Multiple ways to fund the card without additional cost
Works online/offline in Nepal and India
IMEPay takes no yearly charges (for both virtual and physical cards)
Free deposits to linked bank accounts
It provides Android and iOS SDKs for developers, and plugins for WooCommerce and WHMCS for merchant integration.
Downsides are:
You only get two free ATM withdrawals per month, NRs. 20 for additional withdraws.
It also charges for bank transfer that are not linked to your account with a flat rate of NRs. 10.
Those are not outrageous limitations, and rates are fair. It's always better to be aware before you use it. If you can live by those limitations, then this card is suitable for you. VISA cards work with ATMs of any bank. You won't need to worry about compatibility or charges. Two withdrawal limits should be enough for people who seldom withdraw money.
There are some additional charges described in their charges and commission document. We suggest you check it out before you splurge on spending money with IMEPay.
All things considered, it looks like a great service. Technology in Nepal is slowly moving towards digital payments. Restaurants and shops have QR codes posted on their walls. You can buy tickets for travel, movie or flights online. Combining good aspects of mobile wallets with additional controls in a refundable VISA card is definitely a move in the right direction. We see similar features offered by sites like Privacy.com.
Besides connecting to many bank accounts, the additional VISA card controls add another layer of security to your finances. You can only top-up money you wish to spend. You can change the PIN right on the app and disable it anytime you please.
I got my KYC verified, and I got the virtual VISA card on the app last week. I'll be adding money through connectIPS and see how it goes from there. If you have used this service and have any experience (good or bad) to share with us, please let us know in the comment section.