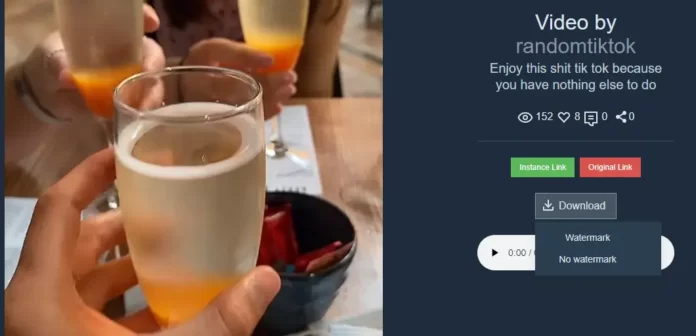 TikTok has videos that have watermarks that flicker and move to multiple location of the video. Downloading a TikTok video isn't straightforward as it doesn't allow downloading videos from its official app. There are some websites that let you download videos without watermark but they have ads and tracking embedded in them. The only solution to this problem is a TikTok private frontend called ProxiTok.
ProxiTok lets you download TikTok videos with or without watermarks. This makes it easy for you to choose to download your own videos or someone else's video. ProxiTok is also free of any ads and trackers, so you'll never have to worry about that.
As it is a website, you do not need to download any app on your device. It needs no permissions. It works on any platform and the video format is "mp4" and should work on any device.
To download a TikTok video without watermark:
Replace the domain name of TikTok with a Proxitok instance:
https://www.tiktok.com/@jessicaritchie35/video/6983401257381776645
to
https://proxitok.pussthecat.org/@jessicaritchie35/video/6983401257381776645
Find the "Download" button on the page.
Choose to download the video with or without watermark
The benefit of this approach is there is a less waiting time. ProxiTok mirrors the download without tracking you. You don't need to set your eyes on any ads like other alternatives.
You may also use a Redirector extension to redirect all TikTok video links to a ProxiTok instance. Firefox for Android also supports the redirector plugin. Then you can just share your TikTok link to your browser and get the clean ProxiTok interface to download the video.