JW Player is a popular video player framework. Many video hosting platforms use it for displaying videos to their users. It has a limited free, open-source version, with a premium offering to commercial customers. As opposed to traditional single track HTML5 video player, it uses a multimedia playlist (m3u8) file format, which includes actual audio/video information. This makes it hard to download with conventional means. So how do you download videos from websites that host JW video player?
Note: These media files you download may be subject to copyright and other laws. Check laws in your country before engaging in unlawful behavior. Do not share it online or use them for your projects without explicit permission. This guide is only for educational purposes.
On Desktop
With no specific extension and plugins, this requires a deep diving into the web browsers Network monitoring tab. The networking tab records all data shown to you by the website. The media files are no exception. If you find yourself on a website that you want to download a file and cannot do so, this is the first mode of action. I went to the variety's video section to check a video. It was pretty easy to filter out the file JW Player was using to display the video.
Open the Developer Tools Network tab and refresh the page
Play a video you want
On the filter, type "m3u8"
Look for an mp4 file with an additional m3u8 file format.
Remove the '.m3u8' from the link and you could watch the video on a new tab.
Use youtube-dl or other similar video downloader applications to download the videos with m3u8 links. It might not always work as some platforms use preventive measures.
On Mobile
In the current timeline, developer tools are strictly for desktop browsers at the moment. You cannot get these network monitoring capabilities on a mobile device unless you are a developer and use debugging tools. Let's explore some prospects to download videos from a JW Player.
Firefox Mobile (Android)
Firefox Mobile nicknamed Fenix is one of the mobile browser that allows users to use extensions on a browser. You will need a beta or nightly version of the Mozilla Firefox browser.
Create a custom extension collection. Remember the collection ID.
Add The Stream Detector to the collection
Add the collection to your Firefox mobile setting
Visit a site with a JW media player to play a video
Check "The Stream Detector" extensions page for the m3u8 media files it detects.
Tap the filename to copy the link
This is a preview of what you may see on The Stream Detector extension's page.
You may view the video on the new tab or use a download manager to download the video.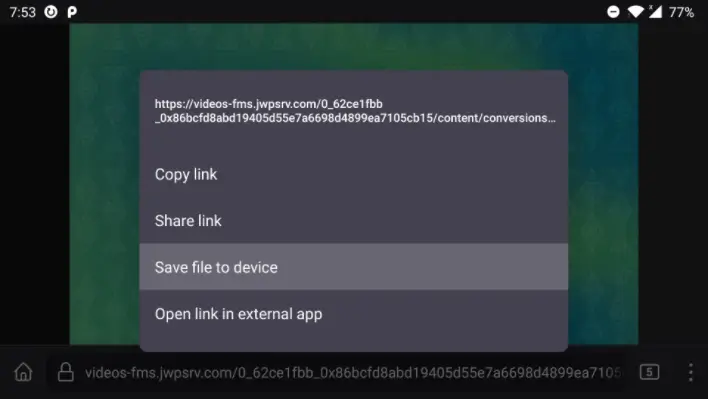 1DM Download Manager (Android)
1DM is a download manager with an integrated browser. The integrated browser is a fork of an open-source browser named Lightning browser. 1DM developer has added many features to make it more configurable along with the ability to detect media files.
Here you just have to visit a page with a JW video player and it will detect the media playing on the page. It will also be able to download those media files. We have a customizable Tasker 1DM download task if you're interested.
Lastly
As we said before, be careful about the copyright owners that host these media files. Even as some platforms may not protect their media files with DRM, it may be subject to copyright infringement. If you are downloading from a site like Reddit, they have been open about allowing users to download videos from Reddit. Let us know if you know other download methods for JW Player.