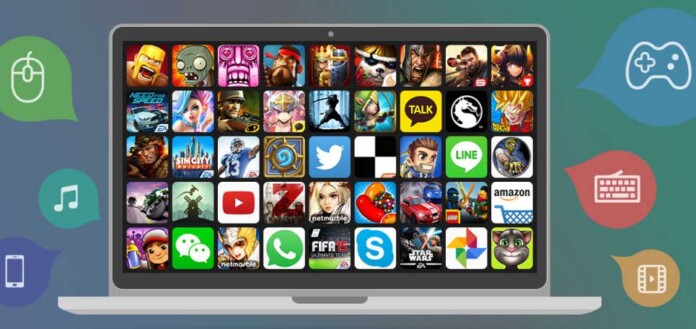 Bluestacks was one of the first Android emulators for Windows PC. But since it's inception, it had bloated apps you had no control over. The bluestacks is now considered a bloatware with limited feature asking you to install random apps. It is also hard to remove from your system as it doesn't properly uninstall all of its files. Here are the three free and bloat free android emulators we have collected for people who want to try Android on Windows PC.
The features are based on the date of writing the article and out of box availability.
[table class="blualt"]
| Simulator | Size | Android | Open Source | Play Store | Root Access | Bloat/Ad |
| --- | --- | --- | --- | --- | --- | --- |
| MEmu 2.9.6 | 231Mb | 4.2.2 | No | Yes | Yes | No |
| KOPLAYER 1.4.1055 | 309Mb |  4.4.4 | No | Yes |  No | Yes |
| RemixOS Player | 744Mb |  N/A | No | Yes |  N/A | N/A |
| Nox App Player | 279Mb |  4.4.2 | No | Yes |  Yes/Settings | Yes |
| Andyroid 46.16.819 | 468.2 |  4.2.2 | No | Yes | No | Bundleware |
[/table]
MEmu is the easiest to use Android simulator running on 4.2.2 out of the box. The download is 231 Mb, and installation was fast and smooth. This ease of use makes it worth trying for people who don't want to go through a lot of options before using the application.
The installation was smooth and didn't take long. The window loads into a launcher like a regular tablet. The emulator was very responsive, and animation and transition were smooth. So we recommend this.
Nox allows you to map keyboard, buttons, virtual location, shake feature, and share files. It allows you to set the device name, manufacturer, model, IMEI, and number. You can enable root through the settings. You can customise CPU and RAM usage limits. You can also configure what buttons appear on the sidebar as you use the emulator. You can choose these buttons to appear on sidebar or bottom.
One of the unique features of Nox was to record macros. You record your action through your mouse and keyboard as you normally do. The script is recorded, and you can repeat the same action with custom repetition number, interval and acceleration. These scripts are saved which can be used to run the macros at a later time.
Nox App Player was easy to install as well. No Annoyances, bundled software or ads during installation.
KOPLAYER is Android prepared for x86 Architecture, support advanced features like OpenGL & hardware acceleration. It allows configuring your keyboard and gamepad to work with Android apps inside. You can setup shared folder which enables you to sync files on the Windows and the emulator. It has screenshot, video recording, GPS tool, and camera connect as sidebar buttons.
Installing with minimal annoyances was easy. It had a beginner tutorial letting you know how to operate the features. The performance wasn't that great. The screen wouldn't update correctly. As you scroll, you have to wait for some time for the content to load.
Andyroid is the last Android emulator on our list. Andyroid has a complicated setup process. They also bundle other apps with their installers, so you have to be careful. Their site only offers online installer and downloads 469Mb of file/s for installation. The installation process runs very long installing another dependency as C++ package for windows. It almost took half an hour to get from downloading to completion. Also, most of it happened in the background without any progress window. Some people will consider this shady practice.
As per the emulator, it used a lot of resources to run. It ran inside a Virtual machine environment and took time trying to boot up. I stared at the black screen for a few moments, the android screen popped up. It still was using a lot of resources, and I decided to close it down after a few tests.
RemixOS claims to be the most advanced Android gaming so you can expect better gaming action. They claim to allow multiple apps were running simultaneously with multi-gaming feature.
The download for Remix OS seems to be corrupted at the moment, at least of me. I downloaded the installation file twice from different mirror provided from the official sources. But they ran into problem saying the package was corrupted after a moment.
We will update the article as we get it working.