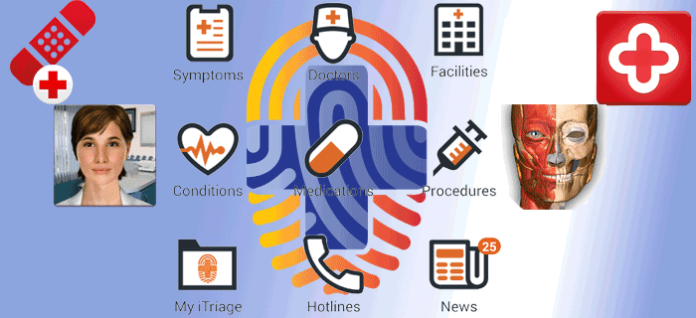 In the wake of the recent massive earthquake in affecting multiple places in Nepal. It has led to vast devastation of life and property. The country is still experiencing some small aftershocks. In current environment, there's a lot of chances for health hazards to spread and cause even more damage. This is why everyone needs to be ready for health problems that may occur. Keeping yourself informed about first-aid and basic medication can help you deal with simple health conditions when professional help is far away. These 5 Apps will either give you health information or offer free health consultation.
HealthTap is a great app for finding information and also consulting real doctors for free. You can ask short questions based on your symptoms or just random queries about your health. The free service lets you ask short anonymous messages to doctors available on HealthTap. And doctors can respond with answers to your questions.
HealthTap is the best and fastest way to quickly get great answers and very useful tips from reputable doctor anytime, anywhere. And, astonishingly, it's all free!
The official American Red Cross First Aid app puts expert advice for everyday emergencies in your hand. Get the app and be prepared for what life brings. With videos, interactive quizzes and simple step-by-step advice it's never been easier to know first aid.
The app includes safety tips for everything, from severe winter weather to hurricanes, earthquakes and tornadoes help you prepare for emergencies. And the Videos and animations make learning first aid fun and easy.
If you want information about first aid, drug or medical glossary, this is the app for you. Use this app to get reassurance when doctors and health assistant is far. Check symptoms from medically reviewed database for your condition. Identify pills, medication and find local health locations. With all that, you can customize the app with your own health information with drugs, conditions and articles.
WebMD for Android helps you with your decision-making and health improvement efforts by providing mobile access 24/7 to mobile-optimized health information and decision-support tools including WebMD's Symptom Checker, Drugs & Treatments, First Aid Information and Local Health Listings.
Created by two ER doctors, iTriage gives you quick access to a huge healthcare & medical database in your pocket. The medical content is reviewed by Harvard Medical School. Over 12 million people have downloaded the iTriage health app that has a 4.5 star rating from over 100K reviews. Features include searching for health-related symptoms, learning about potential causes, finding the nearest medical establishment.
You can also make appointments with doctors, create your customized profile with your health information and find local health hotlines.
Best Android Symptom checker is an app specifically to determine what your symptoms are related to. Powered by Harvard Medical School, the Virtual Nurse is a symptom checker which helps you answer the question: "Do I need to see the doctor?".
If you have medical worries or symptoms she will put your mind at rest and could save you an unnecessary visit to a physician. It's like having a physician in your pocket!
The Virtual Nurse will talk to you, like Siri, and ask you questions about your symptoms to diagnose:
1. If your symptoms are normal
2. If you need to see a medical doctor or physician
3. If this is an emergency situation requiring urgent medical care
One of the important thing to learn before diagnosing yourself is to learn your body. Although different, human anatomy will give you the basic idea of all the systems operating inside your body. This helps you make the best of all the information you get from internet and other sources. The app provides you with illustrations of each biological system that can be zoomed using pinch touch.
You'll also get description of each element represented in each biological system and more information via wiki through reference links.
Other apps worth mentioning are Medscape, iPharmacy Pill ID & Drug Info which both provide in depth information about medical drugs and are especially for pharmacists.
However, a fair warning that these apps are informational and they should be used wisely. The symptoms, diagnosis and medications mentioned in these apps may not be perfect for you and can be potentially dangerous. So take caution and when in doubt, you're better off waiting for a trained doctor to treat you.