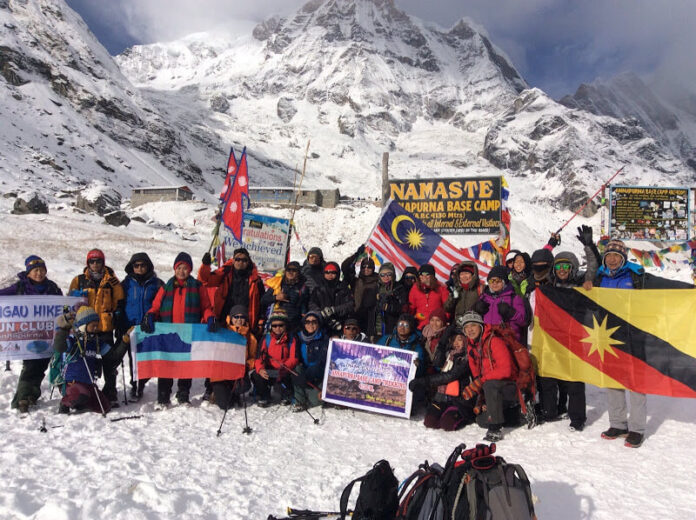 Congratulation to all the team members of a mixed group of Malaysian-Sabahan-Sarawakian and Singaporean hikers for conquering Mount Annapurna Base Camp, Nepal on December 12th, 2018. The team consisted of 2 best guides, 2 people of best Sherpa, and 8 potters following us for 14 days of hiking and climbing the mountain. It took us 8 days of walking uphill and 3 days downhill from the Pokhara to Annapurna. We have to walk through the villages, the jungle, the river and cross rocks all the way during our ascend. We enjoyed the view and the colorful Nepali people.
This was the best team with a mixed group of people from Malaysian including Malay Sabahan, Sarawakian and Singaporean. We had been together as brother and sister sharing happiness and difficulty for one mission calling from Mt. Annapurna in Nepal. Many thanks to Miss Carol Antonia and Abang J for leading with good leadership and management skills. Appreciation for Datin Juliana Maniah for the best support and best Idola to all the youngsters in this hiking project. Also, our medical Doctor from Sabah: Dr. Rissin Kusop, Dr. Asraf, Dr. Anhar, and Dr. Izza for their best support.
It was a proud moment to be Malaysian and sing the song of "Negara Ku" on top of the basecamp of Mt.Annapura. By SukiiYakii.@Sukinah Maniah.
12.12.2018-Nepal.Himalaya Range.The most iconic and favorite world-class distance hiking in the world. Thanks to all the best teammates for sharing and supporting each other.
Photo credits to brother Roslan all the way uphill and downhill the trip.
Written by: SukiiYakii@Queen of the Jungle #Keningau Hikers Fun Club.