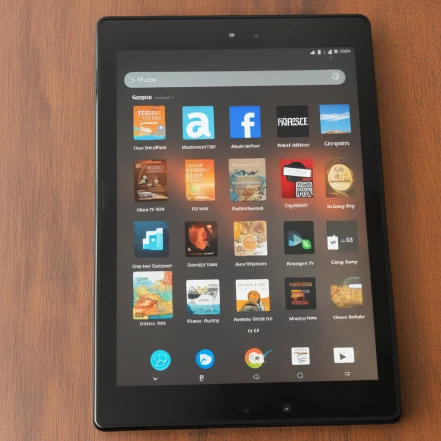 The Amazon App Store has a very limited and often outdated apps in their store. Which is why users often prefer the Google Play Store. Google offers a larger selection of apps and a more familiar look. After all, your Fire tablet is an Android device at heart.
Can you add Google Play to your Fire device? You can do it without rooting your device or interfering with its internals. We'll guide you through it step by step.
Sideloading saves the day
Regrettably, there isn't a quick fix for installing Google Play on Amazon Fire tablets. But don't fret; there is a simpler alternative – side loading apps manually. This process involves downloading the APK file and install it. Following this action, simply tap on Install and allow your tablet to complete the operation.
If you're committed to welcoming the Google Play Store onto your Amazon Fire tablet, continue reading.
The Preferred Approach
Sideloading apps instead
Accommodating Google Play Store on Amazon Fire gadgets
Sideloading Android Apps on Amazon Fire Tablets
Sideloading in Android terms means installing applications outside of your designated app store. Amazon Fire Tablets are based on Android, so they inherit this feature. You don't need to wipe or format your device, which makes the process simpler. However, without the app store, most apps have no way to update on their own.
It is important to understand the details above because we'll be using it to add the Google Play Store to Amazon Fire tablets.
First, you need to activate app installation from unknown sources:
Go to the Settings application on your Amazon Fire gadget
Look for Security & Privacy or just "Security"
Turn on the "Apps from Unknown Sources" option.
If your Amazon Fire device is a recent release, the permission needs to be allowed on a per-app basis. You can either give your browser or your file manager app installation access. Regardless of your preference, you'll need to activate "Allow from this source" option.
If you follow the instructions above, you can easily sideload apps onto your Fire tablet with no restrictions.
Incorporating Google Play Store on Amazon Fire Gadgets
You need to sideload four apps to get the Google Play Store on your Amazon device. They are separated by versions for different compatibility. Choose the one that relates to your fire tablet. And install them in order shown below. This will allow Google Play Store to run on your device.
Google Account Manager:
Google Services Framework:
Google Play Services:
Google Play Store: For all models
Install these apps, then restart your tablet. Open the Google Play Store app. You'll then be able to log into your account and begin downloading apps via the Google Play Store. Enjoy!
Amazon tried long and hard to make Amazon Appstore a mainstream app in Android with free app giveaways and daily free credits for the using the app. However, the attempt was unsuccessful. Now, it mainly runs on devices manufactured by Amazon or on Windows 11 Android Subsystem. Amazon even removed Minecraft from paying members without Amazon devices to make it a default android app store in Windows 11. So, you cannot trust Amazon. Google Play store pulls similar stunts but at least doesn't prevent third party app store unlike Amazon.