Old places and objects have a unique sense of history that always attracts people. You might have noticed that the old things have the highest prices and values. If you talk about hotels, we all know that travelling was way more difficult than it is now. People used to stay at place in between travelling so that they can rest and eat. These Oldest hotels were the depictions of old heritage and the culture of the people of old times. But with passaging times, most of the lands containing oldest hotels were being used for other purposes and the hotels were demolished or rebuilt into some other building or living place. There are some ancient hotels in various parts of the world that are still operating well. These hotels have adapted to modern food demands while preserving their historical heritage and culture. We are here presenting the oldest hotels in the world that are still working.
10. The Beekman Arms, Rhinebeck, New York (Oldest hotel in the USA)
Established in 1766, the Beekman Arms holds the distinction of being the oldest continuously operating hotel in America. Located in the beautiful Hudson River Valley, this place offers visitors a glimpse into the pre-revolutionary war era. The colonial-style decor adds to the charm of the place.
The Beekman Arms has a rich history. It has hosted many notable figures throughout the centuries. Some of these figures include George Washington and Alexander Hamilton. The hotel features 23 unique guest rooms, each with its own individual character and charm. Some rooms even have working fireplaces, adding to the cozy and romantic atmosphere.
Besides its historic charm, the Beekman Arms provides modern amenities like high-speed internet access and flat-screen TVs. Guests can enjoy delicious meals at the on-site restaurant. The restaurant serves up classic American fare and uses locally sourced ingredients.
The hotel is in the heart of Rhinebeck, a charming town with plenty of boutiques, galleries, and restaurants to explore. Visitors can also take a stroll through the nearby gardens and parks or go on a scenic hike in the surrounding hills.
9. Al Cappello Rosso, Bologna, Italy
Dating back to 1375, Al Cappello Rosso is not only one of the oldest hotels in the world but also one with an intriguing history. Originally serving as a small house for Jewish travelers, the law mandated it that their stay could not exceed three days. Today, the hotel seamlessly blends modern amenities with a touch of old-world charm.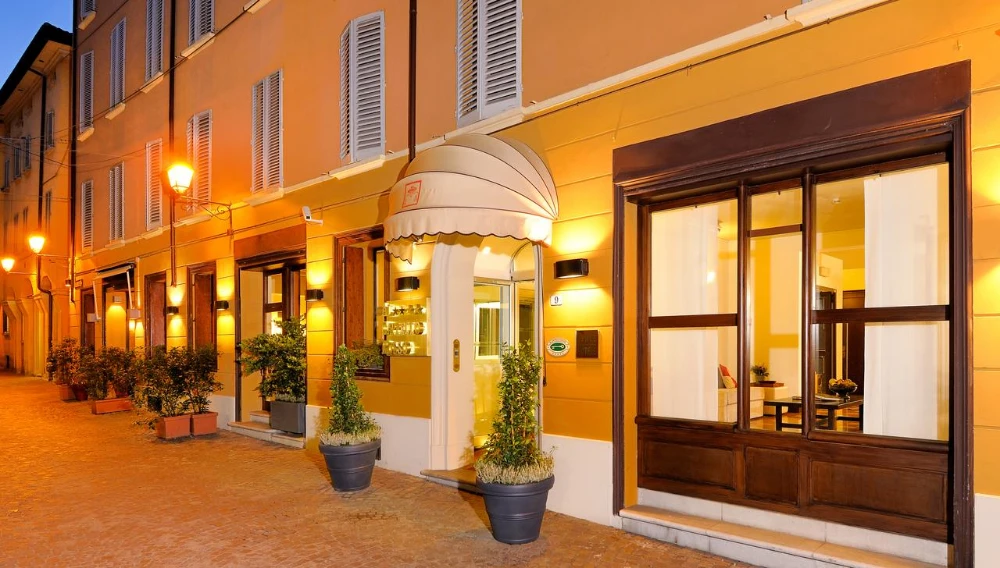 The hotel has 33 rooms and suites featuring elegant furnishings, high ceilings, and large windows. These windows offer breathtaking views of Bologna's historic city center. Guests can enjoy a range of amenities, including free Wi-Fi, flat-screen TVs, minibars, and room service.
Al Cappello Rosso has a famous restaurant. They serve traditional Bolognese cuisine. The food is made with fresh, local ingredients. The hotel's bar is a popular spot for guests and locals alike, offering a wide selection of cocktails, wines, and spirits.
Al Cappello Rosso offers luxurious accommodations and dining options. It is conveniently located to explore Bologna's many attractions. The city's famous Piazza Maggiore, the Two Towers, and the Basilica di San Petronio are all just a short walk away.
Whether you're in Bologna for business or pleasure, Al Cappello Rosso provides a one-of-a-kind experience. It combines history, luxury, and comfort, making your stay unforgettable.
8. Pilgrim Haus, Soest, Germany
Opened in 1304, Pilgrim Haus played a significant role in accommodating Christian pilgrims on their way to the shrine of Saint James in Spain. Along their travel route, it provided a much-needed resting spot. The hotel has ancient origins, but has been modernized with renovations. It now offers a delightful mix of history and contemporary comfort.
The hotel's facade displays clear Gothic-style elements. These include pointed arches, intricate stonework, and stained glass windows. The architecture is 700 years old. Inside, guests will find a cozy and welcoming atmosphere, with modern amenities such as free Wi-Fi, flat-screen TVs, and comfortable beds.
Pilgrim Haus also boasts a restaurant that serves traditional German cuisine, as well as international dishes. Guests can enjoy a hearty breakfast buffet each morning and relax with a drink in the hotel's bar.
The hotel's location in the charming town of Soest provides plenty of opportunities for sightseeing and exploration. Guests have the option to visit St. Patrokli Cathedral, explore the charming Old Town, or go for a bike ride in the surrounding countryside.
If you're a history buff or simply looking for a comfortable place to stay, Pilgrim Haus is an excellent choice for your next trip to Germany.
7. Orso Grigio, San Candido, Italy
Originally known as Grauer Bar, Orso Grigio traces its roots back to 1300 when it served as a bar in Austria. After World War I, it moved to Italy and translated into Italian. During the war, it even functioned as a military hospital. Today, this historic hotel offers modernized accommodations and excellent dining options.
In the charming town of San Candido in the Dolomites, Orso Grigio boasts stunning views of the surrounding mountains. The hotel has successfully preserved its historic charm. It also provides guests with comfortable and contemporary amenities.
Every room is beautiful and decorated with the finest furniture. It also has modern amenities like free Wi-Fi and satellite TV. Guests can choose from a variety of room types, including deluxe rooms and suites with mountain views.
Orso Grigio is also known for its exceptional dining options. The hotel's restaurant serves traditional South Tyrolean cuisine made with fresh, locally sourced ingredients. Guests can enjoy a delicious meal while taking in the breathtaking views of the Dolomites.
For those looking to explore the area, Orso Grigio is ideally situated for outdoor activities such as hiking, skiing, and cycling. The hotel also offers a range of wellness facilities, including a sauna and steam bath, to help guests unwind after a day of adventure.
6. Gasthaus Sanct Peter, Germany (Oldest hotel in Germany)
Sanct Peter holds the honor of being Germany's oldest hotel, with its origins dating back to the mid-13th century. While the building itself may have existed since 600 AD, it became an inn near the cathedral court in later centuries. It was known as "vineyard" and offered guests the famous vino of Sanct Peter. The hotel continues to satisfy its customers with its unique blend of ancient charm and contemporary amenities.
The hotel has undergone multiple renovations and refurbishments throughout the centuries. However, its historical significance and architectural beauty have always been preserved. The rooms are spacious and comfortable. They have modern amenities like Wi-Fi, flat-screen TVs, and air conditioning. The hotel has kept its traditional features. These include wooden beams, antique furniture, and decorative paintings.
Sanct Peter is in the heart of Germany's picturesque wine country, surrounded by vineyards and rolling hills. Its location makes it an ideal base for exploring the region's wineries and tasting the local wines. The hotel's restaurant offers traditional German cuisine. They serve hearty stews, sausages, and freshly baked bread. The wine list is extensive, featuring some of the finest wines from the local vineyards.
The hotel has a rich history, and they adorned its walls with paintings and artifacts that tell the story of its past. The staff are knowledgeable and friendly, and they are always happy to share the hotel's history with guests. Guided tours are also available. These tours take guests on a journey through the hotel's history and architecture.
Sanct Peter is not just a hotel; it is a cultural and historical landmark. It has played a significant role in the history of Germany, and it continues to be a popular destination for tourists from all over the world. Whether you are a history buff, a wine enthusiast, or just looking for a unique and memorable travel experience, Sanct Peter is the perfect destination.
5. Angel & Royal, Grantham, UK
The Angel Inn opened in 1203. It became famous as a resting spot for travelers going between London and Edinburgh. The hotel has hosted famous historical figures like King Richard III and Prince George IV. Its distinguished reputation earned it the name "Royal" and established it as one of England's oldest hotels.
During the 18th and 19th centuries, the Royal Angel Hotel underwent several renovations to keep up with the changing times and demand. It became a hub for social gatherings and celebrations, including balls and banquets. However, the hotel faced a significant setback during World War II when it suffered severe damages because of bombing raids.
They restored the Royal Angel Hotel after the war. It regained its former glory and continued to serve as luxurious accommodation for travelers and locals. The hotel has recently undergone more renovations. These renovations aim to modernize the facilities while keeping the historic charm intact.
Today, the Royal Angel Hotel stands as a testament to England's rich history and hospitality industry. With its prime location in the town's heart, it remains a popular destination for tourists and locals seeking a comfortable and elegant stay.
4. The Olde Bell, Hurley, England (Oldest hotel in England)
Established in 1135, The Olde Bell claims the distinction of being England's oldest hotel. Originally, it served as a guesthouse for locals. During the Glorious Revolution in the 17th century, it played a role by aiding residents through a secret passage. Today, guests can enjoy luxurious rooms. Renowned London-based designer Isle Crawford designed these rooms. Guests can also savor delectable cuisine.
The Olde Bell, with its rich history and modern amenities, is a popular destination for travelers seeking a unique and luxurious experience. The hotel rooms are furnished elegantly. They have a blend of contemporary and traditional design elements. This provides guests with a comfortable and relaxing stay. Besides its luxurious accommodations, exceptional dining options are also highlights of The Olde Bell.
The hotel's restaurant serves delicious dishes that highlight the best of British cuisine. They source their ingredients from local farms and producers. Guests can choose from a range of options, including hearty breakfasts, light lunches, and decadent dinners. The hotel also offers a selection of fine wines, spirits, and cocktails to complement its menu.
The Olde Bell provides various activities and amenities to entertain guests during their stay. Visitors can explore the hotel's beautiful gardens, take a dip in the swimming pool, or relax in the sauna or steam room. The hotel also offers a range of spa treatments, including massages, facials, and body wraps.
The Olde Bell is a one-of-a-kind hotel that combines the charm of England's history and culture with the modern amenities of a luxury hotel. Guests can stay in modern accommodations and also experience the country's cultural heritage.
3. Zum Roten Baeren, Freiburg, Germany
Zum Roten Baeren has been continuously operating since its opening in 1120, making it one of Europe's oldest hotels. Originally starting as a guest room for a single family, it expanded over time to become a guest house. This beautiful building has survived critical periods like the Black Plague and both World Wars. It has managed to retain its historical charm while also offering modern comforts.
Today, Zum Roten Baeren is a successful hotel. It has 25 rooms and suites, each designed to give guests a comfortable and unforgettable experience. Its prime location in the heart of Freiburg, Germany, makes it an ideal choice for visitors looking to explore the city's rich history and culture.
The hotel's restaurant dates back to the 16th century. It serves traditional German cuisine. Guests can also enjoy a variety of regional wines and beers in the cozy bar or on the outdoor terrace.
Despite its age, Zum Roten Baeren has kept up with the times by offering modern amenities such as free Wi-Fi, air conditioning, and flat-screen TVs in each room. The hotel also has a conference room and event space for business meetings and social gatherings.
Zum Roten Baeren is a popular destination for visitors because of its rich history, charming atmosphere, and excellent service. They attract people from around the world to this place.
2. Hoshi Ryokan, Japan
Established in 718, Hoshi Ryokan held the title of the oldest hotel until recently. For an astonishing 1300 years, this hotel has been providing exceptional service to visitors. One incredible fact about this cultural treasure in Japan is that 47 generations of its founding family have managed it. This makes it one of the most cherished cultural treasures in the country.
Hoshi Ryokan has undergone renovations and modernizations throughout the centuries. However, it has preserved its traditional Japanese architecture and hospitality. The hotel has tatami-matted rooms. It also has communal baths. They serve traditional Japanese meals in the comfort of guests' rooms.
Hoshi Ryokan has hosted many famous guests over the years, including Japanese emperors, samurais, and poets. The hotel is near the hot springs of Komatsu Onsen. This location attracts visitors who want to relax and rejuvenate.
Despite its long history, Hoshi Ryokan continues to adapt to the changing times and provide excellent service to its guests. The hotel has received many awards and accolades for its hospitality and cultural significance. It has become one of Japan's most iconic and beloved hotels.
1. Nishiyama Onsen Keiunkan, Japan (Oldest hotel in the world)
They established Nishiyama Onsen Keiunkan in 705 A.D. and holds the Guinness World Record for the oldest hotel worldwide. Remarkably, has been under the supervision of the same family for over 1300 years by over fifty generations. This historic place combines ancient Japanese elements with modern facilities. It offers an unforgettable experience for guests.
In the Yamanashi prefecture of Japan, the Nishiyama Onsen Keiunkan is known for its natural hot springs and serene surroundings. The hotel has 37 rooms, each decorated with traditional Japanese tatami mats and futons, offering guests a truly authentic experience. The hot springs, or onsens, are fed by natural thermal waters and are said to have healing properties. Guests can relax in the hot springs while enjoying the breathtaking views of the surrounding mountains.
The hotel has undergone multiple renovations over the years to keep up with the changing times. However, the hotel has successfully maintained its historical charm and character. The hotel also offers modern amenities such as Wi-Fi, air conditioning, and flat-screen TVs in every room. The hotel's restaurant serves traditional Japanese cuisine. They use locally sourced ingredients, giving guests an authentic taste of Japan.
The Nishiyama Onsen Keiunkan is a hotel that has had many famous guests. One of them was Matsuo Basho, a Japanese poet, who stayed at the hotel in the 17th century. Today, the hotel continues to attract visitors from all over the world who are looking for a unique and authentic experience.
Nishiyama Onsen Keiunkan is not just a hotel but a piece of history that has stood the test of time. Remarkable history, stunning surroundings, and impeccable service make this a unique experience for anyone traveling to Japan.